How to overcome the ripple effect of re-shoring on after-sales service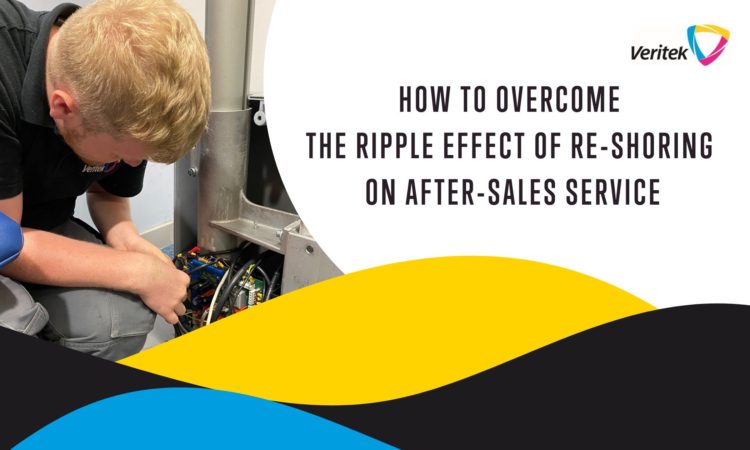 Re-shoring production as a strategy to address supply chain disruption is a topic firmly in business leaders' eyes. But as customer bases evolve, what does this mean for OEMs' after-sales operations?
In February 2022, the ONS reported that one in 20 British businesses had changed their supply chains due to Brexit, the pandemic, and geopolitical tensions, and many switched to UK suppliers.
Re-shoring is not just happening in the UK. Companies worldwide recognise that offshoring no longer affords the benefit of low-cost labour.
On the contrary, now it is more expensive to move manufactured goods across the world; companies considering localising operations are looking to automation, robotics and 3D printing to reduce costs and fill labour gaps.
On a positive note, that technology is also helping companies to increase customer responsiveness and reduce lead times, delivery costs and carbon footprint.
As a result, they can improve the perception of quality and brand reputation.
Of course, improving customer experience also relies on ensuring mission-critical equipment uptime.
All of this means the move towards localised operations is having a ripple effect on OEMs' predicting and planning after-sales service.
Indeed, Service Managers tell us they're acutely aware OEMs' customer bases are evolving.
Let's take the print and packaging sectors, for example. For the OEM supplying mission-critical equipment to the sectors, re-shoring and more localised services mean more locations to cover and high expectations for support.
By the same token, an increasingly complex customer base means they need to re-think or even escalate their back-office function.
Yet most Service Managers we speak to are under pressure not to increase headcount or costs.
So what's the answer?
Outsourcing part or all your after-sales field engineering service operations can help eliminate complex back-office infrastructure challenges and increase the availability and flexibility of your in-house team while reducing costs.
Eliminate complex back-office infrastructure challenges
Running an after-sales back office, including customer services, job logging and management, remote support, and reporting requires expertise as well as being cost-effective.
Yet, you can easily manage these tasks by entering into a strategic partnership with an independent third party with infrastructure and resources to ensure business continuity.
Increase scalability and flexibility
As your customer base changes, OEMs' after-sales service operations must adapt accordingly.
Outsourcing parts of your after-sales field service operations to a third party lets you draw on your partner's resource pool to scale up and down your engineering team and meet unexpected or seasonal demand peaks when needed.
Reduce costs
When you outsource some or part of your field service operations to a third party, in addition to making overhead and labour costs savings, you increase efficiency by eliminating the hours you spend managing your customers' installation and preventative maintenance. Also, repair service needs.
Help your customers to afford the actual cost of after-sales service
Let's look at it another way. When your customers' businesses evolve and their mission-critical equipment after-sales service needs increase, you can help them reduce service costs by using a third party that does nothing but provide field service.
Take Veritek, for example. With its readymade infrastructure to provide onsite services, back-office support, repair centre support and parts and logistics management, it can help you expand your service operation to fit your customers' budgets and goals.
To find out more, get in touch, and we'll set up a time to chat.
This blog is relevant to the following Veritek industry sector verticals: