Articles

|
Latest News

|
news

|
Why demand for remote assistance for equipment manufacturers' customers is increasing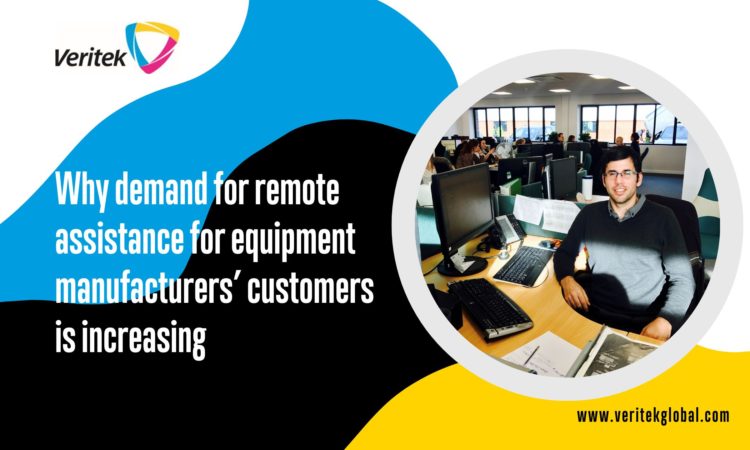 In the move towards product-as-service models, where customers no longer need to buy new equipment but instead pay for upkeep and usage, we're seeing demand for remote assistance for equipment manufacturers increase.
You may think this is surprising given that in the Industrial Internet of Things, where sensors connect the digital to the physical world, the push should be towards predictive and preventative maintenance.
Yet, when OEMs' equipment is mission-critical to customers' operations, let's take, for example, the healthcare sector, print sector or digital cinema, that equipment will undergo heavy and continual usage.
For this reason, OEMs' customers want immediate support when sensors flag issues or unexpected issues stop production.
Furthermore, more often than not, they want that support to be prompt, authoritative, and quick. All of this makes solving issues with a one-off telephone call to a 'remote assistance for equipment manufacturers helpdesk' attractive.
Of course, determining the quickest, most efficient and cost-effective course of action to get sizeable or complex mission-critical equipment up and running requires an agile approach.
A 'remote assistance for equipment manufacturers helpdesk' cannot work on its own, but augments a triage of after-sales service support, including:
First-line remote support
Second-line onsite field engineering support
Third-line subject matter expert support from the OEM to resolve the most complex issues
At Veritek, the first port of call for equipment issues is always the customer helpdesk. Here, trained operators route calls depending on the urgency or complexity of the particular equipment issue.
If the customer helpdesk believes remote assistance could provide the best response, then OEMs' customers can expect the following:
Fast response to customer issues from OEM-trained specialists
Delivering high standards of remote assistance requires a deep level of knowledge.
Remote support engineers must be adept at identifying issues, responding directly to questions and providing first-line support.
For this reason, highly experienced OEM-trained engineers make up our remote assistance team.
Expert engineers with strong communication skills
Your customers want to feel supported and that you are at their side when they encounter problems.
To deliver remote support, engineers must have the ability to communicate clearly and effectively.
They must know how to ask the right questions to understand the problem and establish the cause while at the same time demonstrating empathy and willingness to help.
Moreover, they must have skills to communicate easy-to-follow step-by-step instructions over the phone.
The business case for remote assistance for equipment manufacturers
An OEMs' after-sales service operation has three key objectives:
Reduce equipment and customer downtime
Speed up time to resolve issues
Increase process and workforce efficiency
Access to a remote assistance support desk allows OEMs to:
Increase the availability of support
One of the main benefits of remote support is customers can access it when needed. Even outside peak working hours.
Speed up response time
When you reduce travel time between jobs, you speed up the response to customers and meet service level agreement goals.
Reduce the cost of support
When you give customers fast access to OEM-trained engineers, you lower the cost of service by eliminating the time and cost of mobilising mobile engineers to customers' sites.
Elsewhere, you relieve some of the pressure caused by escalating fuel costs and a tight economic landscape.
Reduce the environmental impact of travel
If sustainability is a business objective, reducing time on the road means lowering the carbon footprint of post-sales support.
Increase uptime and first-time-fix rates
In addition to increasing customer satisfaction by meeting expectations and saving them from the cost of additional service visits, increased first-time-fix rates improve everyone's bottom line.
Ensure customer satisfaction
Remote support helps you increase the productivity and efficiency of your equipment and, in turn, the productivity and efficiency of your customers' operations.
When customers have faith that your equipment gives them business continuity, you build trust and relationships between your customers and your technology.
Is providing remote assistance for customers part of your after-sales support package? Get in touch to find out how Veritek's existing infrastructure can get you started or increase the efficiency of your existing helpdesk.
This blog is relevant to the following Veritek industry sector verticals:
Want to discuss your needs?
Call now to ask about service plans or technical support – we have a Veritek expert waiting.