Articles

|
Latest News

|
news

|
Why repair centre support should be part of an OEM's customer success story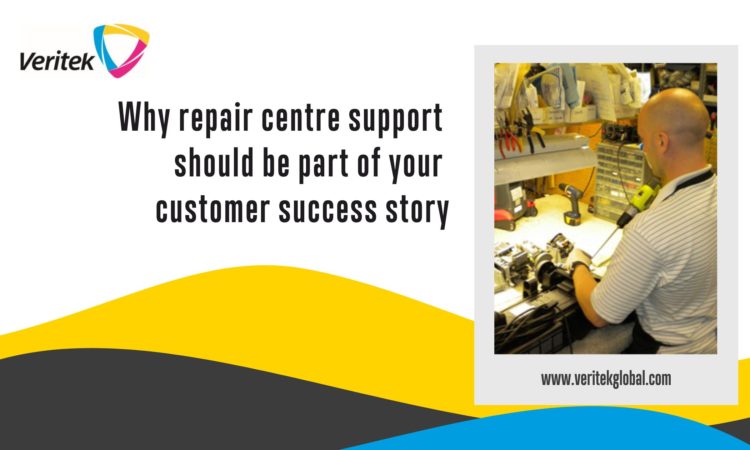 Your customers use your products to succeed and drive their businesses forward, which is why customer success doesn't end with the sale.
Preventative maintenance is an after-sales strategy that supports customers at every step of their journey to reach their goals with your products.
Yet there's more to after-sales service than that.
Giving customers access to technical assistance from a repair centre is another way you can drive customer success.
It's pretty apparent when you think about it. A repair centre complements preventative maintenance in that it allows you to showcase your customer service and attention to detail.
Let me explain how this works:
Why equipment breaks down
In an ideal world, planned preventative maintenance would ensure that equipment never breaks down. But in real life, sometimes equipment needs an unexpected repair.
Perhaps an end customer has missed its scheduled preventative maintenance.
Or an environmental condition, such as dust, dirt, weather, humidity, or a power cut, caused the equipment to break down.
Then there's the case of legacy equipment. Replacing it might require a scale of investment a company cannot justify. While built to be durable and rugged, legacy equipment needs periodic repair work to operate at peak efficiency.
The impact of unexpected breakdowns
Downtime is a word that sends shivers down company managers' spines because it impacts efficiency, profit and customer satisfaction.
To illustrate, sectors Veritek's repair centre regularly supports, tell us:
Digital cinema
A cinema chain aims to get people in and out of screenings as quickly as possible. For this reason, repair centre support ensures equipment failures don't slow the process or cost them time and money.
Retail including opticians and outlets with photo kiosks
If a customer has an appointment with an optician or approaches a kiosk and finds it out of order, it may give the retailer a second chance, but the next time the device is out of service, loss of trust will make a return unlikely. Repair centre support ensures busy retailers retain customers by quickly getting equipment up and running.
Leisure and tourism, including cruise ships, theme parks, tourist attractions and motorsports
Leisure and tourism attractions engage the senses and create memories, so every customer touchpoint is vital to the operators' success. Fast access to repair support for augmented reality/virtual reality (AR/VR) equipment ensures continuity of customer experience.
Control room equipment
Projector failures can impact an emergency service's ability to deal with incidents quickly and efficiently. Back-to-base repair services, including equipment swaps, ensure equipment failures never cause a crisis.
Benefits of including third-party repair centre support as part of your after-sales strategy
A repair centre requires significant infrastructure and headcount, including spare parts, inventory and delivery logistics to meet customer SLAs.
Given this, OEMs need to weigh the opportunity cost of setting up an in-house repair centre operation to meet fluctuating demand when they could use that investment to drive products forward and gain more customers.
To overcome capacity issues, OEMs can call on a third-party repair centre to supplement in-house resources or, if needed, to deliver full back-to-base repair provisions.
When you work with a third-party repair centre support partner, you can expect:
Repairs carried out by highly trained technicians
Take Veritek, for example. Every field engineer and repair centre technician has solid mechanical reasoning skills, which means they understand:
• Mechanical concepts and how things work
• The reasons why equipment occasionally breaks
Better still, they enjoy the challenge of fixing equipment and making sure it doesn't break again.
Beyond that, we send our team members to regular training courses, which means they have certifications in equipment repair from OEMs they support.
Moreover, they continually look for ways to upskill through regular discussions with their in-house and customer teams.
A dedicated space for repair work
In the event a technician cannot repair equipment onsite, a service level agreement that includes repair centre support lets your customers organise a transfer to Veritek's repair centre, where we can:
• Organise a back-to-base swap to reduce downtime. By this, I mean our technicians will send your customers an identical replacement on loan
• Acclimatise equipment and inspect it within 24 hours of arrival
• Diagnose the problem and restore your equipment to its original condition using only OEM precision-engineered parts. Veritek's repair centres keep stock of non-warranty and warranty parts
• Turnaround repair jobs within a three-day target
• Calibrate and test equipment before returning it to your customer
Repair centre support tracks progress and spot trends
Your customer repair team will keep you regularly updated with its progress.
Most importantly, it will help you to increase your customers' machine uptime and satisfaction with detailed feedback and trend spotting.
Expert repair centre support that builds trust and relationships
In addition to preventative maintenance, third-party repair centre support enhances customer experience by giving you access to professionals who promptly solve customer equipment problems to your high standards.
When you support your customers throughout their ownership of your equipment, you build strong relationships because your customers know you are a partner and supplier they can rely on.
When you have happy customers, you gain brand advocates.
What could be better than that?
This blog is relevant to the following Veritek industry sector verticals:
Want to discuss your needs?
During the call, we'll discuss the support you need and whether our third-party service partnerships would be a good fit for your OEM service division.