Articles

|
Latest News

|
news

|
Key takeaways from 100% Optical 2023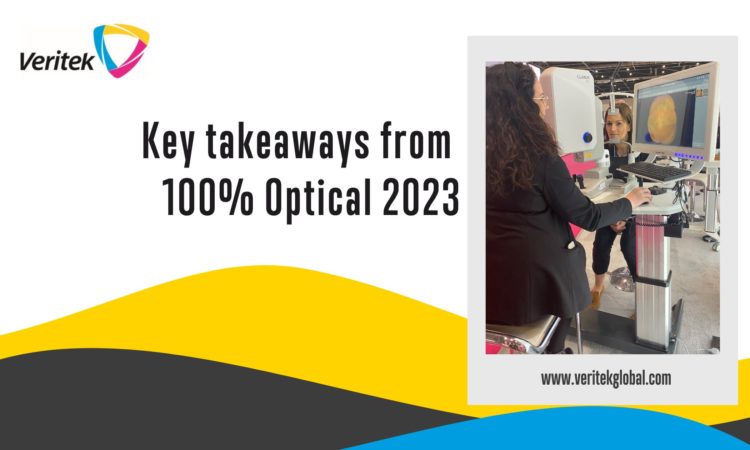 100% Optical 2023, organised in partnership with the Association of Optometrists (AOP), brought together optical professionals from around the world to discuss the latest trends in technology, source the latest eyewear and contact lenses and earn CPD points via a comprehensive educational programme.
The three-day event took place between 25th and 27th February at ExCel London.
Veritek's Sales & Marketing Director Adrian Clark attended to catch up with optometry OEM customers for whom the company provides after-sales installation, maintenance and repair services.
Here are Adrian's takeaways from the event.
Why an optometry show is attracting more ophthalmologists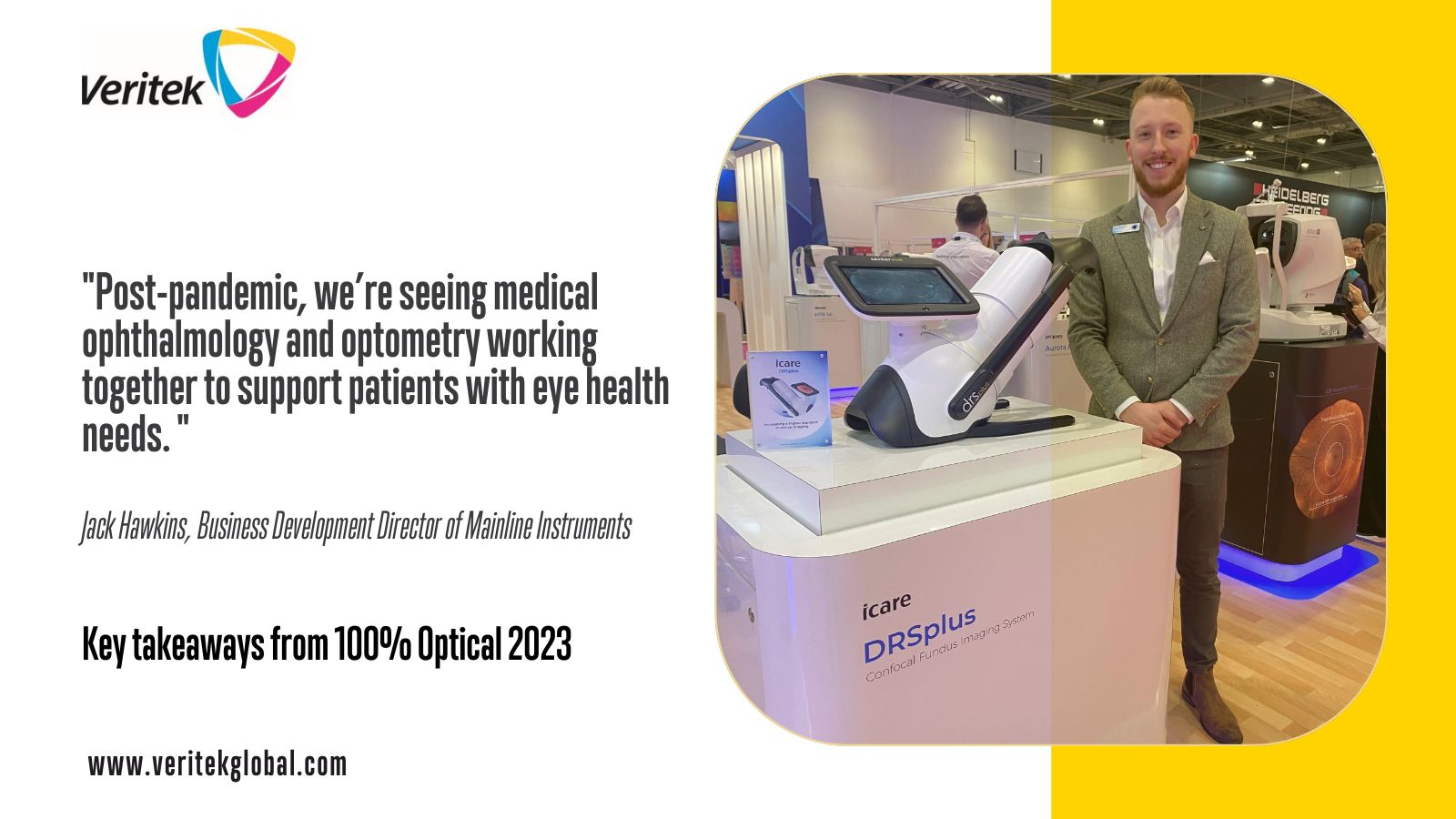 Jack Hawkins, Business Development Director of Mainline Instruments, told us, "Post-pandemic, we're seeing medical ophthalmology and optometry working together to support patients with eye health needs. So, it is no surprise that we've met several medical ophthalmology customers at this year's event."
He added: "With a little more training on screening, optometrists can help reduce pressure on NHS hospitals and backlogs."
Jack's company, Mainline Instruments, is a distributor of Eidon. This ultra-wide field camera gives operators a 'wider view' of the retina to get more information about the signs of pathologies in the periphery.
Launching new products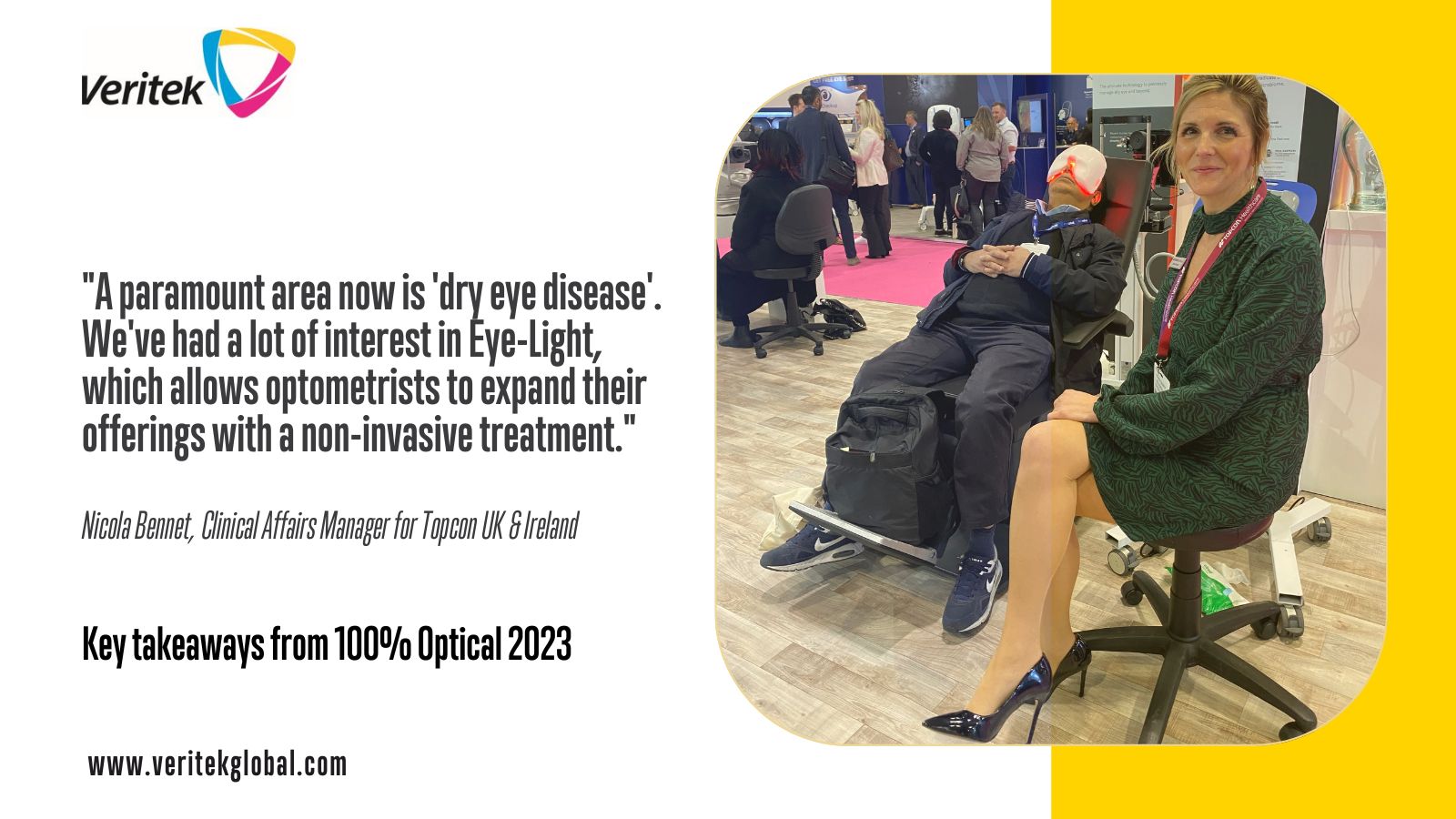 The opportunity to meet optical professionals face-to-face and demonstrate products meant that many exhibitors brought clinical and salespeople to 100% Optical 2023 to help them to launch new products.
"We're here to launch the new Weco CT7 glazing machine," said Lloyd Swain, Technical Service Manager of Visionix. "On our stand is Celia Royle, a qualified dispensing technician who can answer technical questions about how the product's 3d previews ensure precision for a perfect match between the lens and frame, even on the most complex frames."
He added, "It's been a busy show. In between lectures, people visit our stand in waves."
Nicola Bennet, Clinical Affairs Manager for Topcon UK & Ireland, told us, "100% Optical is one of our biggest events, which is why you'll find both our Clinical Affairs Team and Sales Team on our stand. The event provides a good space for our customers to come and talk to us and ask us questions they normally don't have time to do because they are busy in clinics. In addition to answering questions, we can provide demonstrations."
She added, "A paramount area now is 'dry eye disease'. We've had a lot of interest in Eye-Light, which allows optometrists to expand their offerings with a non-invasive treatment."
Announcing new partnerships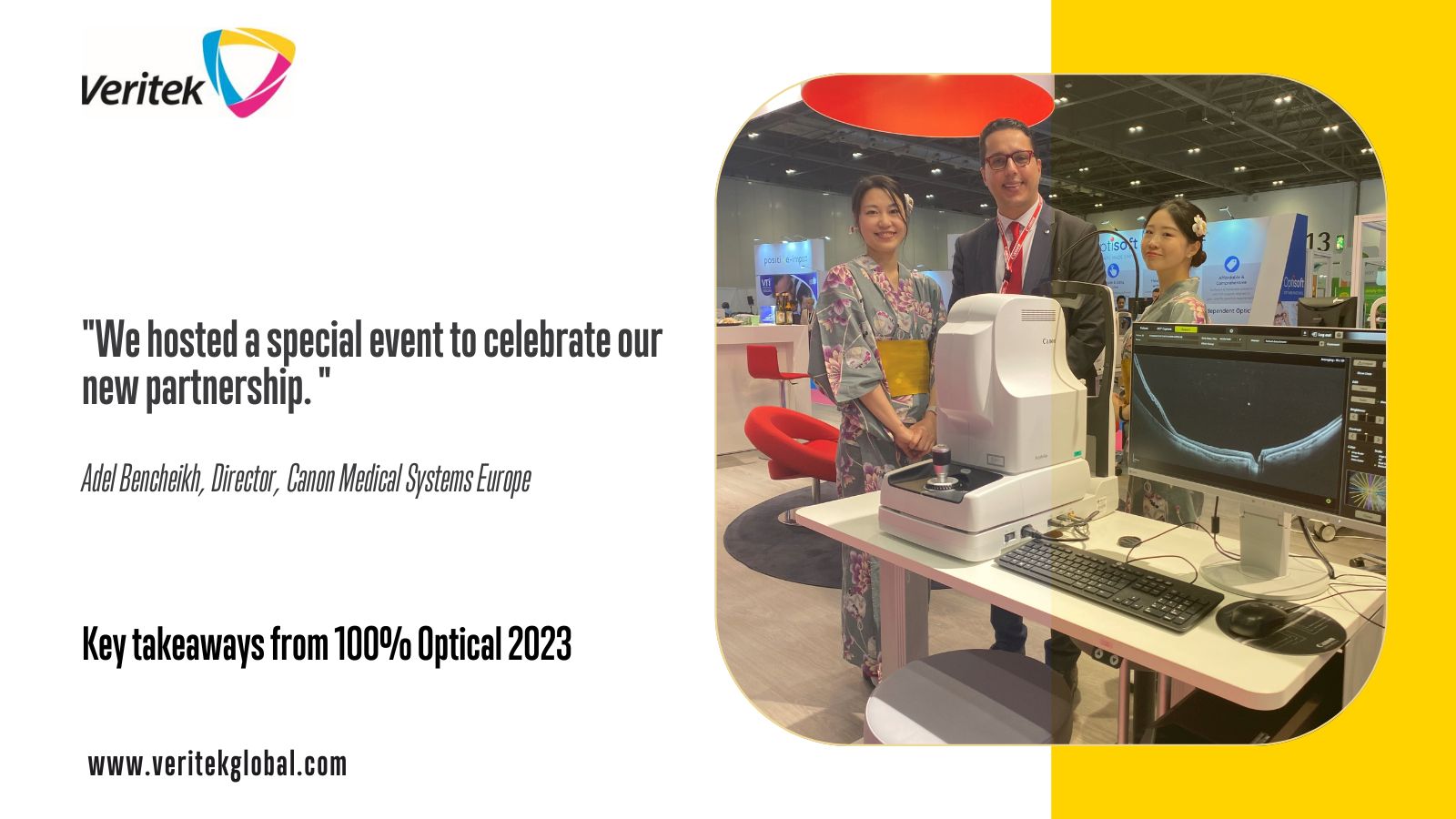 Distributors play a vital role in connecting manufacturers with customers. Because 100% Optical 2023 attracted 10,000+ optical professionals over the weekend, Canon Medical Systems Europe used the opportunity to publicise and promote its new partnership with Sense Medical, which will be the company's exclusive distributor of their ophthalmic eye care products in the UK and Ireland.
"On Saturday, we hosted a special event to celebrate our new partnership with Sense Medical," said Adel Bencheikh, Director of Canon Medical Systems Europe. "Visitors were treated to Japanese drummers, calligraphy and Japanese food. We're delighted they then shared our event widely on social media."
Meeting customers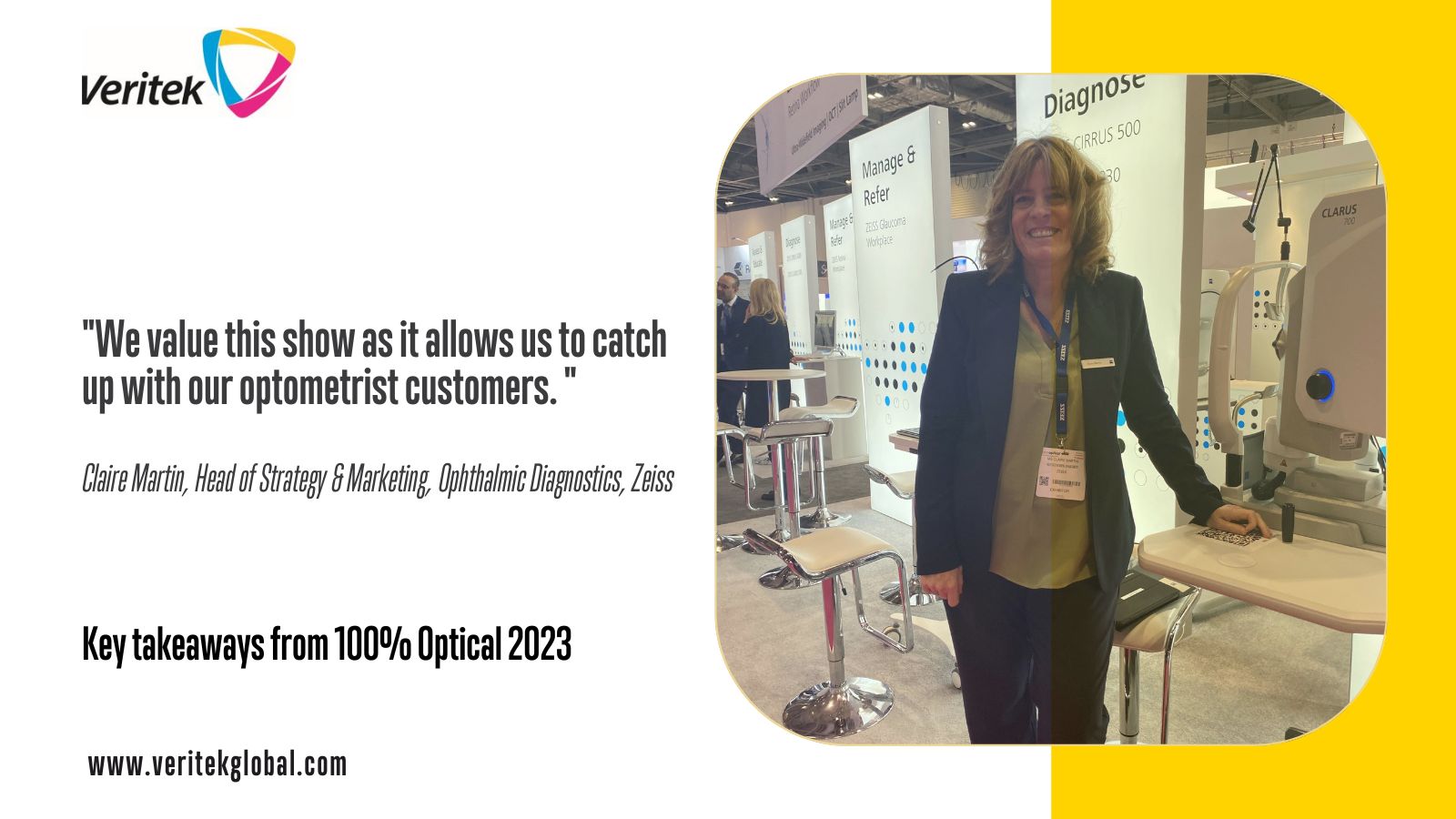 All the exhibitors we spoke to agreed that exhibiting at 100% Optical 2023 provided them with an effective way to strengthen relationships with customers because the event allowed them to meet them face-to-face.
Claire Martin, Head of Strategy and Marketing, Ophthalmic Diagnostics at Zeiss, commented, "Zeiss is known for its diagnostic technology. We're here to showcase our OCTs, the 'Humphrey Field Analyzer' that tests for glaucoma and 'Clarus', which provides ultra-wide field retinol imaging'. Also, the software that links our technologies together so that you can get analysis and good workflow and efficiency.
We value this show as it allows us to catch up with our optometrist customers. Also, to talk to people involved in ophthalmology as we sell into the NHS."
Learning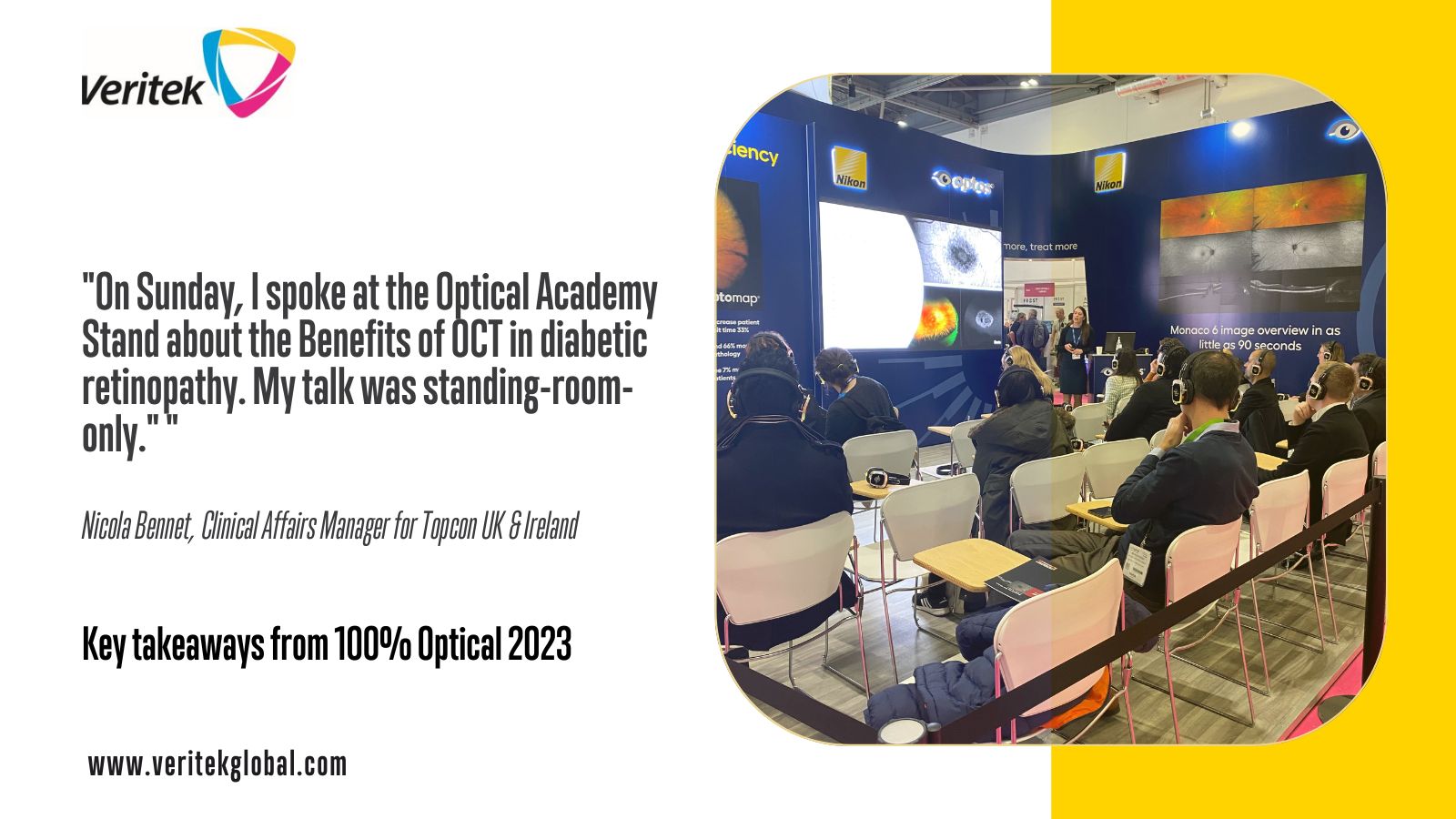 100% Optical 2023 brought together an impressive line-up of speakers, including business leaders, academics, and medical professionals, to deliver a comprehensive educational programme.
Topcon's Nicola Bennet told us, "The speaking events are popular. On Sunday, I spoke at the Optical Academy Stand about the Benefits of OCT in diabetic retinopathy. My talk was standing-room-only."
Nicola added, "For me, other speaker highlights included Sarah Farrant, one of our Key Opinion Leaders, talking about 'Using technology in practice for myopia management and dry eye assessment'. Elsewhere, Professor Nicholas Rumney spoke about 'The Benefits of OCT-angiography in practice'.
The value of trade shows during turbulent economic times
Undoubtedly, the economic environment, with its high-interest rates and inflation, will have been on the mind of exhibitors.
"We know it's hard to commit to buying capital assets in today's market, which is why we need to show value from day one," said Jack Hawkins of Mainline Instruments.
"We work with financiers who can help optometrists to work out ROI from equipment. Business plans look at what a machine costs, what optometrists should charge for tests, how many days of the week they test and so on. With this information, optometrists can determine when a machine will pay for itself."
To sum up
"My overall takeaway from 100% Optical 2023 is that technical advancements in the optometry equipment market and the rising prevalence of eye diseases are fuelling market growth," Adrian observed. "Furthermore, they are giving optometrists opportunities to expand their service offerings."
He added, "Given this, we see providing after-sales service for OEMs is more important than ever, as it helps optometrists use their mission-critical equipment effectively, reduce downtime and provide better patient care."
And finally
Interested in learning more about after-sales service partnerships? We've put together a helpful datasheet titled "After-Sales Services for Medical OEMs'. It's free and is available for download here.
This blog is relevant to the following Veritek industry sector verticals: