Articles

|
Latest News

|
news

|
Understanding After-Sales Service Partnerships: Interview with Veritek Sales Director Adrian Clark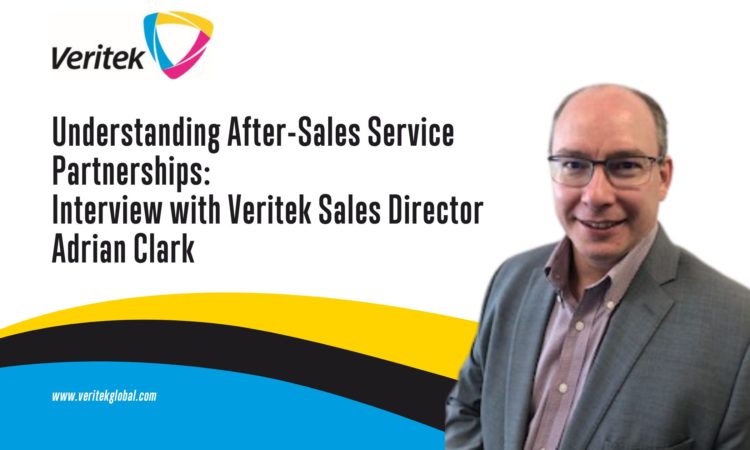 Are you curious to find out how an outsourced after-sales service partnership can help you to grow your medical OEM business?
Adrian Clark trained as an electronic design engineer, then moved into Sales and Marketing while working for large corporate OEMs.
Three years ago, he decided to take up an offer to help grow Veritek, an after-sales service company.
Veritek helps OEMs to scale capacity to cost-effectively manage the installation, maintenance, repair, and recycling of mission-critical company machinery assets.
In an interview, I asked Adrian how Veritek supports medical OEM businesses.
Here's what I learnt:
First, let's start with your story. When did Veritek first appear on your radar?
As you know, I started my career working for OEMs. Here, I learned the importance of after-sales service. Also, the fact that many OEMs use third parties to help them provide after-sales service at scale.
What attracted you to work for Veritek?
Veritek has a clear mission and growth plan. Moreover, the company supports specific sectors where its skillset and expertise make the most impact. The company's ambitions suit my experience. Veritek feels like a place where I can make a difference.
Tell me about the problem Veritek's field engineering service partnerships solve for medical OEMs
The medical/healthcare sector is constantly in a struggle to meet peoples' needs for care within financial and resource limitations.
Medical technology makes it easier for healthcare workers to improve healthcare performance and outcomes, from reducing workloads to managing supplies.
To keep medical technology operating to OEM specifications, Veritek helps medical OEMs deliver after-sales service in the most cost-effective way. Regular maintenance protects medical equipment and ensures it lasts for a long time. Also, it protects OEM customers' investments.
What is Veritek's track record in the medical equipment manufacturing sector?
Veritek's first medical sector engagement was with AGFA Healthcare in 2007. Since then, we've gained over 15 years of experience providing after-sales services to medical equipment manufacturers.
What are the components of your after-sales service partnerships?
Veritek maintains and repairs equipment predominantly on behalf of the manufacturer.
Our after-sales service offerings broadly break down into four areas of support.
Customer service/call handling. We take calls from the end user (the OEMs' customer) on behalf of the OEM and diagnose the problem. Our customer service team try to find the best, fastest and most cost-effective way to get the end user up and running.
Remote technical support:  Fixing technical issues over the phone or online is becoming increasingly important, especially as a means of providing a fast response, increasing first-time fix rates and enhancing customer satisfaction. If an issue cannot be resolved over the phone, having diagnosed the problem, our remote technicians escalate calls to a field service engineer.
Onsite field engineering support: We have a large pool of service engineers that look after our OEMs' customers. What's more, we have an efficient job planning process that ensures when our field engineers perform onsite repair visits, they know what the customer expects of them and have the right parts with them. As a result, we maintain high first-time fix rates, translating into customer satisfaction for our OEM partners.
Repair centre support: For some equipment types or key components, it is either not cost-effective or inconvenient for an engineer to fix them in the clinical environment. In these cases, we can provide a back-to-base repair or swap service.  Repair centre support can be a more cost-effective option for OEM's and a more convenient option for the users.  Our repair centre has highly skilled and experienced technicians integrated into our overall service delivery capability.
How skilled is Veritek's medical equipment technical services team?
Qualified electro-mechanical engineers, experienced in servicing mission-critical equipment, make up our team. Our engineers typically cover one or two sectors. All receive OEM-approved training regularly to ensure their skills are up to date and meet the expectations of the end users and OEMs we represent.
Do OEMs need to train Veritek's engineers?
Yes. The manufacturers we partner with train and accredit our engineers to deliver maintenance and repair services to their standards.
Our engineers accompany manufacturers on end-user visits during their training. We aim to ensure our engineers' skills match those of manufacturers' in-house teams. Also, to ensure our engineers can represent the OEMs' brands and deliver a positive customer experience.
Our medical engineers must be experts in equipment and the clinical environment. They must understand the restrictions in place and why they are there. And abide by PPE requirements and access restrictions.
How does an OEM communicate with Veritek during a partnership to understand progress and any potential problems?
We always work transparently. As part of the engagement process, we establish our manufacturing partners' reporting and data-sharing requirements.
Our OEM partners determine how much data they want. We can provide real-time updates.
For example, we can give our partners access to site visit data, including engineer activity levels. Also, customer feedback and customer satisfaction questionnaires.
Beyond that, we can align our systems and processes with our partners' customer experience workflows.
Sometimes OEMs need to know the progress of particular jobs. In such cases, our field service management systems keep them up to date as events occur. If the OEM prefers, our customer service team can keep their customers up to date by telephone.
What collaboration tools does Veritek use?
We are in the process of rolling out a market-leading outcome-based field service management platform across Europe. We aim to provide a coherent, consistent experience for our OEMs and their customers. At the same time, ensure consistency of systems and data processes across the Veritek Group.
How easy is it to scale up a support team? How much notice do you need?
Providing after-sales service is what Veritek does. So we can quickly ramp up our resources for the vast majority of our medical equipment OEMs.
Of course, our engineers need to be trained and accredited by the OEM. There is a lead time for that.
Be that as it may, we have many engineers across Europe already trained in the medical environment. Many are familiar with the core modalities, whether ultrasound or X-ray equipment. Because they have a general understanding of medical technology and that space, training will be quicker.
It's important to note we would never send an untrained engineer to a site.
Veritek operates across Europe. How do you deal with customers with different languages/cultures?
We have native-speaking engineers in France, Italy, Spain, Portugal and Germany. Most speak English as a second language. For this reason, we can meet our OEM partners' expectations for delivering all elements of customer service, from call handling to remote and onsite technical support in their customers' local language.
Our local management teams across Europe understand the importance of local customs and cultures in service delivery, so we balance the benefits of scaled systems and processes with the need to engage and support locally.
How do you structure your partnerships with OEMs to be efficient/successful?
First, we establish trust. Our manufacturing partners have to trust we can deliver as they expect, when they expect, how they expect and to whom they expect it.
Next, we establish accountability. Veritek is accountable to the service level agreements we commit. Also, to our OEMs' customers. When we say we will do something, we do.
After that, we establish a strong partnership. Delivering appropriate services on behalf of OEMs requires a two-way understanding of long-term expectations.
It takes time to establish a smooth working relationship. Having clear values ensures long partnerships. The vast majority of OEMs we support have been our partners for a significant time.
How does Veritek put Service Level Agreements (SLAs) together?
It can be very tempting to start the engagement process with some kind of generic service cost.  Unfortunately, many variables and details can affect the actual cost of delivering against an SLA, so generic costs are only sometimes helpful.
Understanding what it will take to deliver an SLA consistently requires a detailed analysis of the OEMs' needs, its customers' needs and the locations they need services. The process requires significant information sharing and can often evolve through the discovery process as SLA's implications become clearer.
We only take on service-level agreements we are confident we can achieve consistently.
How long does it take to set up a partnership?
The fastest we've set up a service agreement is six months. That is from the OEM engaging with us and establishing its needs through us beginning to deliver that need.
It can take up to 12-18 months to get service-level agreements fully up and running.
You see, large organisations have a lot of internal and external stakeholders. All of whom need to align and engage with the change process.
We are used to building partnerships, communicating with OEMs' internal stakeholders, and supporting internal and external discussions.
It's common for OEMs' customers to provide input into conversations. They are the people getting support from us. They explain to OEMs what works for them. They provide the stimulus.
Tell me about a specific company that has benefitted from a Veritek service partnership.
First, as we generally operate under NDAs, I cannot name names. But I can tell you about a relatively new ultrasound OEM partner in the South of Europe.
The OEM is evolving its business model and needs a partner to support its ultrasound equipment.
The company partnered with Veritek based on our track record supporting ultrasound equipment.
Veritek has engineers experienced in Southern Europe medical environments and maintaining ultrasound equipment and x-ray technologies. By demonstrating our experience, our partner was able to shorten the decision-making lead time considerably.
So, it was easy for us to scale up the OEMs' capacity to provide after-sales service.
The new engagement requires a new modality for our field engineers regarding the product range. But it is not new to them to be in the environment.
What did their after-sales operations look like before they began working with Veritek?
The OEM had a different go-to-market model. The company combined its sales channel with its service channel.
As the organisation grew, the OEM established that it was important for certain customers to deal directly with the manufacturer rather than its channel partners during the sales process.
Consequently, the OEM needed to find resources to provide after-sales support.
Hence, evolving its business model. Supporting OEMs during their business growth is a common scenario.
You see, Veritek only provides service support. We don't sell products. We give OEMs the flexibility for us to co-exist with their sales channel partners. We don't compete with reseller and distribution channels. We are not a threat or a competitor. With our help, OEMs have the flexibility to compete for all opportunities, not just some of them.
Now that the ultrasound OEM has an established service partnership, what do their after-sales operations look like?
Partnership with us lets the Ultrasound OEM address more of its target market. With after-sales service needs taken care of, the company can take on larger opportunities and meet its business targets and growth plans.
You spent most of your career working in-house for OEMs. Now you've switched sides, what have you learned as a supplier looking in?
It's a massive benefit to Veritek to have someone customer-facing who understands a large corporate manufacturer's constraints.
An SME business needs help to understand a multi-billion, multi-national entity's challenges in changing its structure and direction.
My knowledge and experience from my time working for OEMs have enabled me to help tailor and present Veritek's offering so that we can make it easy for large corporate OEMs internally.
That understanding has been a significant factor in our successes over the last three years.
What was most surprising to you about working as a supplier to OEMs?
COVID-19 surprised me and everyone else. It was an interesting time to join a new company!
Throughout my career, I've worked with channel partners, both sales and service. They are critical to an OEM's growth and success.  What I found interesting was that there is not always a strong understanding of the internal constraints that both sides of the partnership have. By understanding both sides well, we are in a great position to maximise our joint strengths.
Is there an achievement or contribution to a medical equipment OEM's after-sales operations you are most proud of?
I'm proud of our team's achievement. We are a group that works together. We've managed to improve relationships with our core OEMs. The structures and focus we've put in place to support OEMs in the way they need have led us to achieve core growth with customers we've had for a long time. We've re-energised our relationships, engagements, and partnerships.
What would you say to a medical OEM considering a field engineering service partnership?
Come and talk to us. And come with data. You'll get clear answers. If we can support you, we'll tell you. If we cannot support you, we'll be straight with you. You'll get clarity quickly. To get that clarity, you need to share a lot of information with us. Bring as much information as you can to our discussion.
What should other medical OEMs know about Veritek?
Outsourcing is not a downgrade and doesn't conflict with a manufacturer's business. It is a strategic choice to continue to deliver the right quality of service at the right cost. We work in partnership with our manufacturers and aim to match their service quality.
Very few service partners can offer the ability to talk to a customer on the phone, solve a customer problem on the phone, solve a technical problem in the field, and also return and fix a product at base. Not only that, refurbish or recycle a product back at base.
Veritek can give OEMs the whole service lifecycle. Our driving purpose is to extend the life of machinery. That's all we do. That's also why we worked so hard to achieve our EcoVadis Silver Medal for Sustainability accreditation.
Where can people connect with you, Adrian?
You can connect with me on LinkedIn or via Veritek's website.
Alternatively, I will be visiting the RSNA 2022. If you're going, get in touch. I'd love to see you there.
This blog is relevant to the following Veritek industry sector verticals:
Medical
Robotics and cobotics
Print & Graphics
Optometry
Digital Cinema
Photo imaging
Want to discuss your needs?
Call now to ask about service plans or technical support – we have a Veritek expert waiting.