Articles

|
Latest News

|
news

|
Revealed: How a field engineering service partner upholds OEM brand values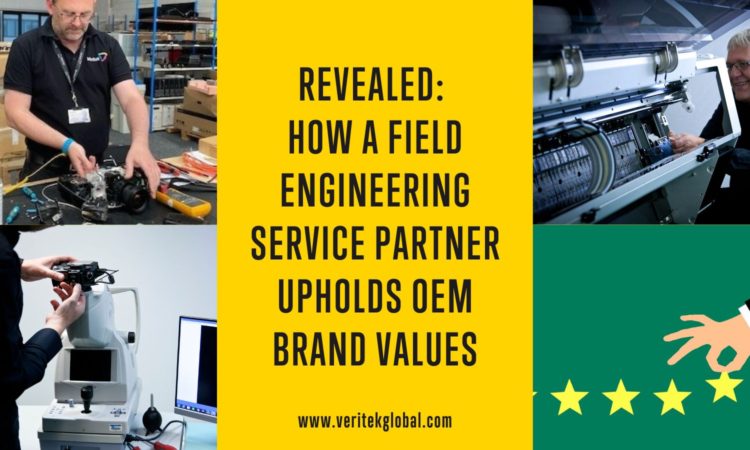 How do you know an outsourced field engineering service partner will uphold your brand values and reputation while managing the installation, maintenance, and repair of your mission-critical equipment?
Let me guess. You worry your customers' experience with a partner's field engineers might not match your team's.
In particular, you worry about how they'll represent your brand in front of your hard-won and valued customers.
Plus, whether they can deliver to the same standard as your engineers.
We get this. Like you, as a business, we spend a lot of time building trust, loyalty and relationships.
You see, Veritek is a field engineering service partner that doesn't sell products. We exist only to maintain and service our OEM customers' equipment.
For this reason, our success relies on our field engineering team delivering a positive customer experience.
You could say we rely on our field engineers to help you to succeed in the after-market for our success.
To uphold your brand values and deliver customer satisfaction, here are the qualities Veritek looks for when employing field engineers.
Remains calm and rational under pressure
You build your equipment to last. But whether it is due to heavy utilisation, harsh environmental conditions or perhaps a missed planned preventative maintenance, sometimes equipment breaks down.
When things go wrong, your customer wants to hand over the problem to a field engineer who is prepared, willing to listen to what went wrong, put themselves into their shoes, and show empathy.
To achieve customer satisfaction, Veritek's field engineers have a positive attitude to completing jobs.
Like typical engineers, they see problems as challenges, new learning experiences, and a chance to grow.
Able to communicate effectively
Whether completing equipment installation, maintenance or repair jobs, being able to hold a conversation while listening for specific information and communicating clearly and concisely is an essential trait Veritek looks for in its field engineers.
Has a compulsive desire to fix things
As an OEM, you know people become engineers because they enjoy investigating how things work.
Veritek's field engineers regularly encounter problems that must be overcome and solved.
For this reason, you can be confident in the knowledge that they'll have good problem-solving skills.
Moreover, they will be people who think analytically and logically to define problems and find solutions.
Executes work with meticulous attention to detail
At Veritek, we place a high value on preventative maintenance, discovering issues before they become a problem. Because our engineers know that downtime due to repair is costly.
But when problems do occur, the devil is in the detail.
Completing repair jobs efficiently and effectively requires understanding how your equipment works.
To look after your equipment to your specific expectations and be able to diagnose problems, Veritek's engineers will need to be trained and accredited by you.
They want to draw on their knowledge of how your equipment works, what can go wrong and how to solve issues.
Elsewhere, our field engineers value engineering logs. To build knowledge, they take notes and pictures of every job.
This knowledge helps them to work to tight deadlines.
Relishes continual learning
Much of our customers' equipment operates at the cutting edge of Industry 4.0 technologies. For this reason, Veritek employs field engineers with expertise specific to the market in which they work.
Our sectors include medical, ophthalmic, robotics, printing and digital cinema.
They know technology changes rapidly. So they continually look for ways to upskill for continued success.
Indeed, our engineers are always open to new ideas, new ways of doing things and information. They learn through OEM training courses, their teams, and their customers' teams.
In fact, they tell us continuous learning gives them confidence.
Your ally in delivering outstanding after-market service
Because customer satisfaction is vital to Veritek's business model, you can expect our engineers to be loyal, trustworthy, courteous and professional.
To illustrate, you can expect your partner's field engineers to arrive looking smart with the right kit.
Because they work independently, they're self-motivated, have excellent time management skills, and know how to prioritise customer issues.
To sum up
The bottom line is this. A strong partnership is critical to the success of any outsourcing arrangement.
To uphold your brand values and deliver a positive customer experience, a field engineering service partner that only provides field engineering services, such as Veritek, will work hard to position itself as an extension of your team.
When you achieve a successful partnership, you can access a team of field engineers whose skills and experience match those of your internal resources.
And be confident in the knowledge you can concentrate on business and product development while your field engineering service partner takes care of after-sales installation, maintenance, and repair services.
We'd love to know your thoughts.
This blog is relevant to the following Veritek industry sector verticals:
Want to discuss your needs?
During the call, we'll discuss the support you need and whether our third-party service partnerships would be a good fit for your OEM service division.