Articles

|
Discover Veritek

|
Latest News

|
news

|
2022 in review: Demand in after-sales services grows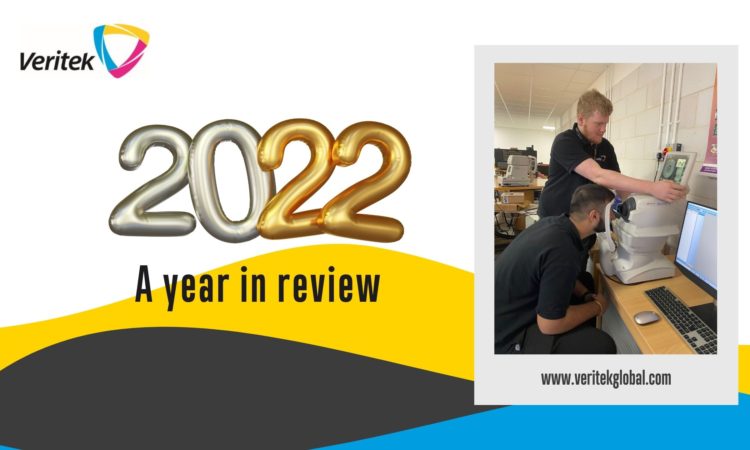 The end of 2021 saw us Covid Tested, vaccinated and beginning to escape our digital lives with the reintroduction of small in-person get-togethers. So after a turbulent two years, the start of 2022 felt like a return to normality.
But then, while Covid rumbled in the background, the War in Ukraine started, sending shockwaves through the global economy.
Energy prices spiked
Transport costs rose
Supply chain woes continued
Inflation soared
A skills gap widened
Agility matters
Fortunately for Veritek, our customers are OEMs. Despite the uncertainty, the determinedly agile manufacturing sector forged ahead and delivered ever-increasing smart technology and IIoT-driven efficiencies.
When trade shows reopened, we saw OEMs spurring customer productivity with automation, robotics and 3D printing.
Return of trade shows
Indeed, the return of trade shows proved the power of physical presence. During FESPA in the spring, an OEM told us, "In 2019 and 2020, it felt like we were launching products into the void."
Veritek Sales & Marketing Director Adrian Clark added, "Although meeting online is more convenient than meeting in person, face-to-face meetings lead to more meaningful business relationships. Conversations I've had bubbling for months turned into actions."
How Veritek bounced back
New working normal
Like our OEM customers, Veritek had to reimagine its operations during the pandemic.
As we emerged from the crisis, we retained our hybrid working model because we proved the concept worked.
Veritek Financial Director Mark Harrison commented, "We had a team adept at working remotely and saw the value we could get from that. Giving people flexibility has increased morale and driven business efficiencies."
Growing our European footprint
2022 saw Veritek resume its growth trajectory. To ensure fast dispatch of native language-speaking specialist engineers across Europe and easy supply lines, Veritek strengthened its three European hubs.
"Each European hub features warehouses for parts and is fully equipped for swaps and repairs," said Operations Director Colin Drury.
"What's more, OEMs can take advantage of our training centres for OEM and Veritek-led training courses located at our UK and German bases."
Cementing our loyal customer base
Fortunately, Veritek doesn't rely on a single market. Having customers spread across several sectors put us in a strong position to weather the pandemic. In 2022:
Medical
We celebrated 15 years of providing after-sales services to medical OEMs.
Ophthalmic
Veritek continues to support equipment manufacturers, including Topcon, and end users, including Boots Opticians, with next-day installation, preventative maintenance and onsite service visits.
We were also delighted to help Boots Opticians with its 'See what's possible' TV ad campaign. 
Digital Cinema
We cemented our partnership with Vue Cinemas to provide onsite service and preventative maintenance, NOC (Network Operations Centre) support, spares, and consumables management across Vue Cinemas' entire network of 91 locations representing 861 screens.
Robotics
In response to demand, Veritek broadened its service offering to include the robotics market. In particular, we're now providing installation and field service support for automated robotic pharmacy equipment for OEMs across Europe.
Print and graphics
Veritek continues to provide remote support and breakdown repair services in partnership with several global graphics industry / print OEMs across Europe.
Growing the Veritek Team
As our sectors bounced back, we appointed new Account Managers for Digital Cinema and Medical to ensure we could achieve the goals in our OEMs' service level agreements.
In addition, we recruited new Field engineers, who bring a wealth of knowledge and experience.
Elsewhere, we trust you've found the content created by our new Marketer relevant and helpful.
If you still need to do so, follow our blog or subscribe to our LinkedIn Newsletter.
Sustainability efforts rewarded
Making equipment last longer underpins everything that we do.
In recognition of our efforts, in May 2022, we were delighted when EcoVadis awarded Veritek a Silver Medal for Sustainability.
Quality Management efforts rewarded
Elsewhere, in November 2022, Veritek successfully renewed its ISO 9001 certification for Quality Management.
Looking ahead to 2023
Among the after-sales service trends we see emerging include the following:
Growth in remote support
Driven by the pandemic, remote support is cost-effective (especially given current fuel costs) and has a less environmental impact. Beyond that, it delivers faster response and helps drive up first-time fix rates.
Growth in demand for local engineers
Increasing fuel costs, supply chain disruption and the ability to deliver more efficient production driven by robotics and automation have led more OEMs to make savings by re-shoring operations.
With our regional centres and local language engineers, Veritek can support OEMs with localised after-sales service support.
Growth in demand for maintenance, repair and refurbishment
Supply chain disruption has prompted increasing interest in the circular economy.
Maintenance, repair and refurbishment contribute to the circular economy by keeping OEMs' machinery and equipment in operation for as long as possible.
Outsourcing is on the rise
To reduce costs, we see OEMs concentrating efforts on core competencies.
In a 2022 State of Manufacturing Report, nearly three-quarters of survey respondents viewed outsourcing positively. The primary benefits listed included quality, efficiency, speed, and pricing.
And finally
Have you finalised planning your 2023 after-sales service strategy? If you need assistance scaling up your capacity, get in touch to find out how Veritek can increase your availability of maintenance engineers when needed.
This blog is relevant to the following Veritek industry sector verticals:
Medical
Robotics and cobotics
Print & Graphics
Optometry
Digital Cinema
Photo imaging
Want to discuss your needs?
Call now to ask about service plans or technical support – we have a Veritek expert waiting.