Key takeaways from Europe's leading print show FESPA 2022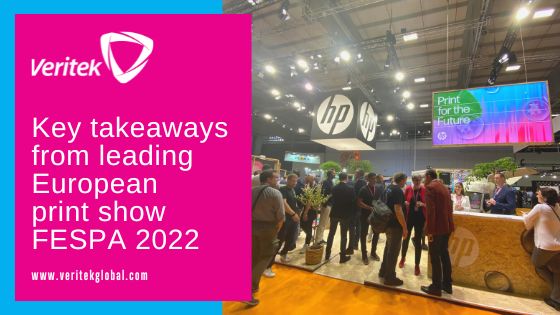 "FESPA 2022 had a feeling of energy. Exhibitors and attendees expressed how much they missed face to face contact."
"In 2019 and 2020, it felt like we were launching products into the void."
Showcasing new products is just one of the reasons why exhibitors were pleased to be back at FESPA 2022, Europe's leading exhibition for screen and digital, wide format printing and textile printing. The trade show took place in Messe Berlin in Germany this month.
The print sector is a strategic market for Veritek Global Ltd. Given this, Veritek Sales and Marketing Director Adrian Clark and Veritek Southern Europe Business Development Manager Alberto Marcos attended the event.
Both attendees were delighted to have the opportunity to meet customers and partners face to face.
"As a service company, it's essential for us at Veritek to extend and deepen our knowledge of the latest trends and innovations in the print sector," Adrian explained. "Also, to learn OEM's focus areas and priorities."
He added: "We thoroughly enjoyed relaxed face to face discussions with our partners and attendees about new features and functionality. Not to mention conversations about service back-up."
Alberto echoed Adrian's thoughts: "The show had a feeling of energy. Exhibitors and attendees expressed how much they missed face to face contact."
He added. "Although meeting online is more convenient than meeting in person, face to face meetings lead to more meaningful business relationships. Conversations I've had bubbling for months turned into actions." 
So how has the print industry fared during the pandemic?
Here's the thing. If there is one thing the print sector is a master of, it's adapting to change.
"Given the post-pandemic climate and soaring energy prices, I was delighted to find printing sector OEMs are optimistic about the future," Adrian enthused. "Our customers reported strong order books. Moreover, positive plans and expectations for the coming year."
FESPA 2022's Sustainability Spotlight Programme
A key theme that emerged from the event was sustainability. "We enjoyed FESPA 2022's Sustainability Spotlight programme," said Adrian. "It provided helpful, informative and actionable advice to help the print sector address people, planet and profit needs."
In particular, attendees enjoyed sessions covering:
Practical steps industry players can take to achieve sustainability with ISO Standards

How to reduce carbon emissions

Why the volume-based fashion and manufacturing model is not sustainable, and how PSPs are capitalising on the opportunities provided by digital textile printing

Sustainability in display and short-term graphics
Elsewhere, Veritek partner and FESPA 2022 sponsor HP showcased the company's green credentials with an eye-catching sustainability-themed stand.
Similarly, other exhibitors showcased the latest sustainable printing technologies, including:
Wide-format printing which increasingly allows for environmentally friendly water-based inks

Digital printing: Uses less energy and produces less waste

LED UV Printing: Produces lower CO2 emissions, lower energy consumption, lower ink consumption and lower waste

3-D printing: Facilitates efficient designs and produces less waste
To sum up
"My overall takeaway from FESPA 2022 is that a constantly changing political, economic, social, and technological environment put a lot in perspective for everyone involved in the print sector," Adrian observed. "I learnt that the need to collaborate and innovate is vital if the print sector is to address the needs of people, planet and profit."
He concluded. "Fortunately, the print sector is no stranger to embracing change. With that in mind, we're looking forward to FESPA 2023 in Munich!"