Articles

|
Latest News

|
news

|
Lessons from a Finance Director: Navigating a global crisis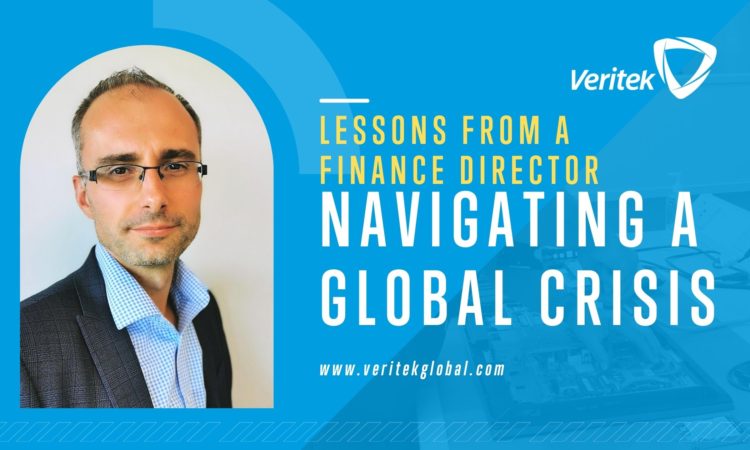 I joined Veritek at an exciting time. The Group was on the cusp of executing major growth strategies. I was looking forward to seeing additional revenues and new contracts. What I wasn't expecting was to have my leadership skills put through the toughest tests.
"Everybody has a plan until they get punched in the mouth." Mike Tyson
Mark Harrison is the epitome of a modern Finance Director. He's smart, ambitious, and driven. Moreover, he enjoys working in fast-paced companies and participating in a successful team.
For Mark, finance doesn't stop with numbers. He believes you can create a narrative around numbers for key personnel in a business to make better business decisions.
Before joining Veritek, appointments in various organisations exposed Mark to many systems, processes, management styles and organisational cultures. All of which helped him build a broad base of experience and skills.
On his previous role, Mark observed, "It was a similar type of business to Veritek. A fast-paced service company. People were the company's biggest asset. That experience helped me hit the ground running when I joined Veritek three years ago."
Before the storm
As Veritek Group Finance Director, Mark is responsible for European-wide finance, IT and HR functions. Additionally, he gets involved with commercial operations, including pricing, profitability and strategy.
"I joined Veritek at an exciting time. The Group was on the cusp of executing major growth strategies. I was looking forward to seeing additional revenues and new contracts," exclaims Mark. "What I wasn't expecting was to have my leadership skills put through the toughest tests."
Watching clouds form
Early in 2020, the COVID pandemic hit Veritek's European territories. Then it headed to the UK.
"Unsurprisingly, our people looked to the leadership team for direction. Suddenly we found ourselves having to answer questions no one had asked us before." Mark acknowledged. "At first, the task ahead of us seemed daunting. We could see that navigating the pandemic required a Group-wide team effort."
The storm hits
On 23rd March 2020, UK Prime Minister Boris Johnson addressed the nation about the pandemic and gave them a single instruction. Stay at home.
Engaging in difficult yet crucial conversations
Veritek's priority was safeguarding its workers and ensuring their immediate health and safety.
"A memory that stands out is announcing the office closure," says Mark. "I recall the look on people's faces. Their surprise. Their questions. How is this going to work? Can we really do our jobs from home? Initially, we envisaged a temporary office closure. In reality, it was two years. At that time, we couldn't comprehend the severity of the pandemic."
Lockdown
"Everything changed overnight," Mark recalls. "Our first challenge was to keep up with the new legislation and regulatory environment.
The rules differed in every country we operated – the UK, Germany, Italy, and Spain. Worse still, those rules changed every day."
He added: "The first lockdown was surreal. No one has ever told our generation to stay at home to safeguard our health and that of other people.
… Watching the news. Seeing the deserted streets and experiencing the quietness. It was eery."
Taking responsibility
As Finance Director, Mark had to protect the company's financial performance.
"I had to ensure Veritek was in the best possible position to weather the pandemic," Mark explains. "And to ensure we came out of the other side as strong as we went into it."
All hands-on deck
Centralising decision-making helped Veritek's executive team to make quick and decisive decisions.
"We set up daily, and twice-daily touch points to discuss the key aspects impacting the Group," says Mark. "Moreover, we kept a close eye on Government websites and the news."
Pressing pause on growth plans
Veritek's executive team decided to take the long view on growth plans.
"In the first instance, we put our growth plans on hold," explains Mark. "As the pandemic took hold, uncertainty reduced many of our customers' appetite for significant decision-making."
Setting up immediate support for staff
Although much welcomed, the Government's Furlough support schemes presented every company's payroll teams with additional challenges.
"Our team had to get their heads around making the calculations," notes Mark. " And ensure the Group correctly documented and collected all of the data.
Moving to remote working
The biggest challenge Veritek faced was transitioning from eight hours a day, five days a week office working to hybrid working.
"Fortunately, thanks to the skill and forethought of our IT teams, the change to hybrid went smoothly," Mark said. "They equipped us with the technology to transition quickly and seamlessly to full-time home working."
Adopting a lean approach
Having some staff on furlough forced Veritek to look at its processes.
"Over those two years, we identified improvements to drive further efficiencies," says Mark. "We learnt how to operate lean."
The benefits of not keeping all eggs in one basket
Veritek isn't reliant on one market. The company has customers spread across several sectors.
"Unsurprisingly, we saw significant activity levels and revenue reductions when Digital Cinemas across our European footprint closed," explains Mark.
"Whereas other sectors, such as healthcare, were particularly buoyant. Here, we saw activities and revenue levels increase."
From field engineer to key worker
Medical is a Veritek market vertical, which means hospitals and clinics rely on the company to keep equipment running so that health professionals could support and treat COVID patients.
"I'm immensely proud of and thankful to our remote Field Engineers who became official key workers," enthuses Mark.
"Armed with PPE, they responded to jobs in high-risk locations during a terrifying and uncertain time. Given the news and the fear people had for their safety, that was a brave thing to do."
Maintaining staff wellbeing
Being out of the office and having to deal with social distancing had the potential to make staff feel lonely and isolated.
For this reason, Veritek's HR department decided to roll out an employee wellness platform providing confidential wellbeing assistance, materials and contacts.
In addition, the Social Committee organised frequent online events such as bingo and quizzes.
"Mental health and wellbeing played an important part in our business strategy," says Mark. "Veritek is a people business. Giving people a virtual point to meet and talk to colleagues helped them feel valued and part of the business."
Avoiding leadership burnout
The executive team needed to maintain their stress levels to provide good leadership.
"My dog helped me," chuckles Mark. "She made me go out for walks and get fresh air. No matter what the weather. Fortunately, I live in a rural village with lots of green space. After that, listening to music kept me energised."
Balancing home and work-life
It was one thing trying to manage a European team during the pandemic. It was quite another effectively managing a team while working from home.
"Like others, I have two young children that needed to be home schooled," says Mark. "It was interesting, and it was challenging. However, I do look back fondly on that time. Especially the shared moments and extra time we had as a family."
Reimagining the workplace
The pandemic accelerated Veritek's move to hybrid because it proved the concept worked. Consequently, the executive team decided to reduce its office space.
"We had a team adept at working remotely and saw the value we could get from that. Giving people flexibility has increased morale and driven business efficiencies," Mark explains. "Our head office had ample space to house our entire back-office teams, dispatch, help desk, customer services, NOC, finance, HR, IT and commercial.
The office also boasted stunning views of the South Downs, but the decision to move was easy. Hybrid working was our future."
A collaborative team helped Veritek tackle the Group's most pressing problems while simultaneously delivering a reliable service to its customers.
"When I look back, I marvel at how everybody pulled together," declares Mark. "Despite the heightened anxiety, Veritek's solid, healthy culture ensured the business continued to serve its customers throughout the pandemic. As a result, the Group came out the other side with a positive future ahead.
We cannot thank our people enough for their patience, dedication and support."
How the pandemic changed Mark as a leader
The pandemic tested Mark's ability to remain calm during a crisis.
"The crisis period re-enforced my view to always remain calm, which in turn gives me the confidence to navigate any situation, however difficult it may appear," said Mark.
"When I am calm, I can be optimistic and proactive. I can turn setbacks into problems I can solve. Instead of reacting, I can take a step back and give myself space to choose the correct response."
Advice to someone in a leadership role facing a crisis
So what did Mark and the executive team learn from the pandemic?
"Break tasks down into small bite-sized critical pieces. Doing so will help you work towards larger goals," Mark suggests. "Also, try as hard as you can to remain calm. When you are calm, you can prioritise. Finally, don't forget to communicate."
Looking to the future
As Veritek emerges from the pandemic crisis, the executive team are taking stock of their new operating model and future opportunities.
"The pandemic pushed the Group to increase efficiencies and innovation. Also, to reimagine operations. We learnt how nimble and agile we could be," says Mark. "I'm proud of what we achieved. Our teams navigated Veritek through an unprecedented crisis while simultaneously continuing to serve customers. Now we're in a strong position to capitalise on paused growth opportunities. Moreover, we know we have the resilience needed to navigate and overcome future unprecedented shocks."
Want to discuss your needs?
Call now to ask about service plans or technical support – we have a Veritek expert waiting.