Articles

|
Latest News

|
news

|
Scaling capacity to provide radiology equipment servicing: What Medical OEMs need to know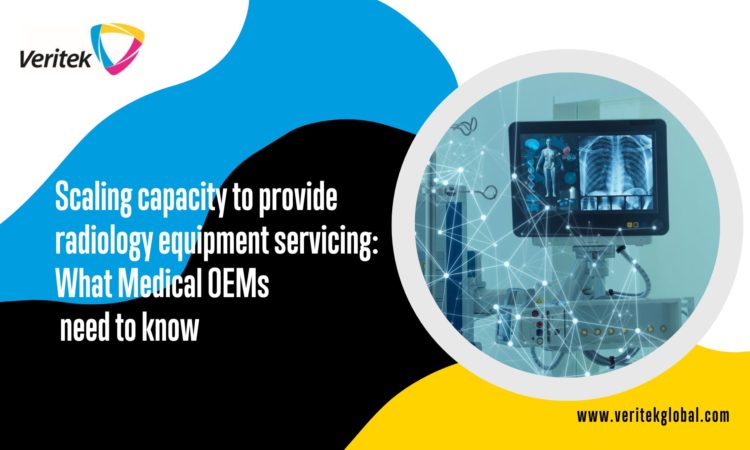 On 8th November, radiologists worldwide celebrated The International Day of Radiology. But did you know that only some engineers can service radiology equipment?
The point is this. Engineers carrying out inspection, servicing and repairing radiology equipment must have specialist certification.
If you're a medical OEM considering scaling up your capacity to provide radiology equipment servicing, you'll need a partner with engineers licensed to maintain equipment to your standards.
The case for robust capacity to maintain radiology equipment
Busy radiologists rely on equipment for early detection, reducing surgeries, and improving patient treatment outcomes.
For this reason, radiology equipment is likely to go through some wear and tear.
When radiology equipment is out of action, it impacts patients, and lost clinical time adds to a hospital's cost pressures.
Regular maintenance helps radiologists maximise clinical time by keeping OEMs' technology operating at peak performance.
If breakdowns occur, hospitals need specialist engineers licensed to provide radiology equipment servicing to get equipment back up and running.
What specialist knowledge is required to service radiology equipment
Medical engineers trained in the maintenance and repair of radiology equipment know how to ensure:
Warning devices and safety features operate correctly
Patients have sufficient protection from exposure to radiation
Equipment is safe to use
In addition, they must know about and adhere to IEC (International Electrotechnical Commission Standards), and comply with MHRA (Medical and Healthcare Products Regulatory Agency) guidance and the National Occupational Standard for Servicing Medical Imaging Equipment.
Beyond that, they must receive training from the manufacturer.
Servicing radiology equipment across Europe
If you have customers in European countries, your engineers need local certification from relevant bodies to maintain and repair radiology equipment.
In such cases, a field engineering service partner can scale up your team with local and licensed engineers to carry out radiology service per the relevant legislation.
Veritek, for example, operates from three regional centres across Europe and has a large team of biomedical engineers licensed to maintain and service radiology equipment across Europe.
Importance of keeping radiology equipment servicing knowledge current
As imaging technology advances, so does the equipment.
For this reason, engineers must keep their radiology equipment servicing skills current.
Veritek expects its biomedical engineers to continually review technical manuals and attend OEM training sessions.
Delivering remote radiology equipment servicing
For engineers to accurately diagnose equipment problems via technical phone support requires extensive practical knowledge and experience with radiology equipment.
Beyond that, remote radiology equipment servicing engineers must be well-versed in the best safety practices, codes, standards, and technologies.
Adherence to hospital safety regulations
Of course, engineers working in medical environments must understand how to access and work in clinical settings. They must also be familiar with the protocols needed to handle medical equipment.
Areas in which medical OEMs can scale up radiology servicing capacity
A field engineering service partner with engineers licensed to carry out radiology equipment servicing can help medical OEMs to scale up their capacity to provide:
To sum up
Access to biomedical engineers trained in radiology equipment provides medical OEMs with a useful asset. And the security of knowing your customers' service needs is in good hands.
Veritek provides third-party field engineering service partnerships that allow medical OEMs to scale up their remote radiology equipment technical support, on-site support, and back-to-base repair services.
We made up our team with licensed electro-mechanical engineers with deep radiology equipment insights.
Our specialist radiology equipment engineers' experience spans ultrasound, C-Arms and portable x-ray devices.
And finally, of course, we expect you to train our technicians on the specifics of your radiology equipment.
What could be more important?
This blog is relevant to the following Veritek industry sector verticals:
Want to discuss your needs?
Call now to ask about service plans or technical support – we have a Veritek expert waiting.