Articles

|
Latest News

|
news

|
Key takeaways from The Print Show 2022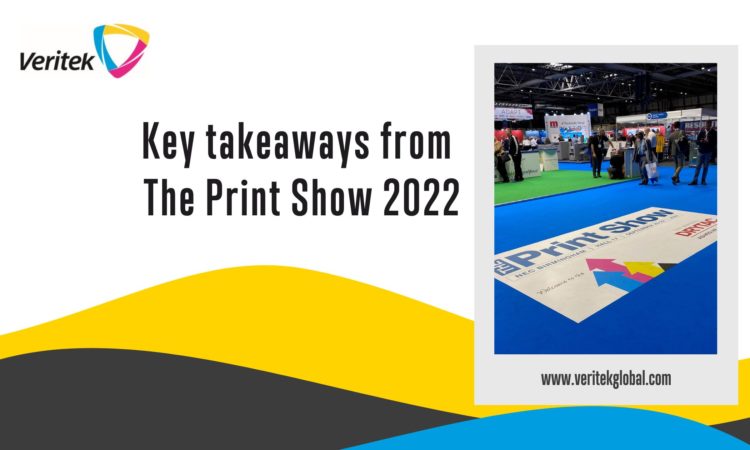 There was a danger that the momentous state funeral of Queen Elizabeth II, which marked the culmination of 10 days of UK national mourning, would overshadow The Print Show 2022, held at Birmingham NEC.
While the country returned to work after an unplanned bank holiday, the event organisers opened the doors to the show.
To their delight, delegates, many of whom needed to catch up after a lost day of work, did their best to turn up to learn about new industry trends and make the most out of the networking opportunities the show provided.
Indeed, many exhibitors we spoke to reported taking good quality leads and welcomed the opportunity to promote awareness of new products and technologies.
Veritek arrived at the show on Thursday, the show's last day. We don't manufacture or sell print products. In contrast, we provide after-sales installation, maintenance and repair services for OEMs.
Because the print sector is a crucial industry vertical for Veritek, we wanted to meet and learn about our customers' focus areas and priorities.
View from a Print Sector Trade Association
We started our day by talking to Bettine Pellant at PICON (Printing Industry Confederation), who explained what attendance meant for the Trade Association.
"We recognise the importance of trade shows to our members," explained Bettine. "They provide the perfect opportunity to meet without distraction. Also, because visitors set aside time to attend, they're more likely to want to make connections, engage in conversations and be willing to learn about products and technologies they see."
She added: "For this reason, we support our members with a space they can use for meetings and refreshments to encourage conversations. So far, I've met and caught up with at least 17 members. So The Print Show has been worth our while."
View from the exhibitors
During the day, some vendors remarked that they would have liked to have seen more big print companies taking stands at the event to draw in the customers.
Despite this, Martyn Train, Managing Director of Duplo UK, a print finishing solutions provider that automates complex manual processes and connects finishing solutions to the print production environment, told us, "The show provided a good training opportunity for our new salesmen. Also, we've taken several good-quality leads and made a number of new connections."
He chuckled, "When celebrity speaker Frank Bruno was interviewed for the Seminar Programme, we worried for a moment. He certainly attracted attention!"
According to The Print Show's organisers, since launching in 2015, their primary ethos has been to provide visitors with the tools and knowledge they need to remain successful in the modern market.
With this in mind, we spoke to Kelvin Bell, Sales Director of Vpress, a company that aims to make online management of printing simple and scalable.
"We're here to demonstrate automation as a growth area for the print sector," explained Kelvin. "You see, big tech, such as Amazon, has taught us all to expect instant access to goods and services. And the ability to order using a mobile device at any time. So why not automate print jobs? On our stand, we're demonstrating how workflows allow people to do more print jobs in less time."
To illustrate, Kelvin invited us to use Vpress's automated workflow technology to print a personalised beer bottle label quickly and efficiently.
Visitor learning opportunities
On the third and final day of The Print Show, the Speaker Programme featured Philip Rickets of MarketReach discussing 'the value of mail in an omnichannel and digital world'.
Also, David Lowe of EPS discussing 'optimising material usage in print layouts'.
And Dr John Bannard of Siltech Ltd discussing 'inks for indicating, monitoring and printing/coding'.
Elsewhere, in a Diversification Zone, visitors learnt how the print sector could help them build their corporate reputations, positioning and brand identities while at the same time contributing to sustainability.
To sum up
If there is one thing we took away from The Print Show, it is how willing the sector is to change and adapt to customers' needs.
Also, the essential role the sector still plays, from commercial printing to sign making, print finishing and packaging, in the communications mix.
The exhibitors we met demonstrated their hard work at the forefront of industry trends. Also, how able they are at using technology to improve customer experience, productivity, and efficiency.
To that end, Veritek came away even more motivated to support the innovative print sector by providing outstanding customer experience with after-sales field engineering service partnerships.
This blog is relevant to the following Veritek industry sector verticals:
Want to discuss your needs?
Call now to ask about service plans or technical support – we have a Veritek expert waiting.