Articles

|
Latest News

|
news

|
How to reduce Cobot service costs to make them accessible to a rapidly growing SME market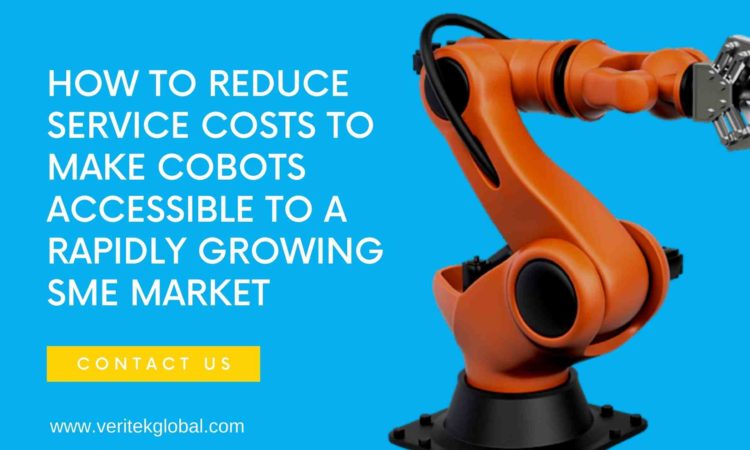 Like me, I'm guessing you've been following the growing demand for cobots?
Let's think about this for a moment. Cobots have been a pandemic success story.
Their small footprint, combined with improved sensors and collision avoidance technology, meant that cobots plugged resource gaps when lockdown rules forced workers to stay at home.
So it was no surprise that when SMEs discovered the benefits of automation and realised cobot technology is affordable, the market did not look back.
If you're an OEM, you'll relish the growing demand for cobots in a new market.
So what's the catch?
Growing demand for cobots means you need to expand your geographical reach.
At this point, you need to consider what it means to provide cobot service to your new SME customers.
Let me explain. Suppose you have twenty robots on a production line. As a large enterprise, it makes economic sense for you to employ an engineer trained by the robot manufacturer.
But if you're an SME with one robot, your one robot still needs maintenance and care.
Furthermore, your one robot is just as crucial to your business as the twenty robots are to a large enterprise.
But employing an engineer to look after one robot does not make economic sense.
So what's the solution to making cobot technology accessible to a growing SME market?
The good news is that OEMs can reduce cobot service costs while at the same time expanding geographical reach.
A field engineering support and repair partner such as Veritek will extend your in-house after-sales support resources.
That is to say; it will take care of ongoing service commitments while you concentrate efforts on your go-to-market strategy.
If you're worried about expanding overseas, know you can choose to work with a field engineering support partner that employs field engineers across Europe. Companies such as Veritek employ local language engineers.
Better still, you can rely on a cobot service support partner to provide preventative maintenance to keep your cobots performing at peak condition.
So if you are an OEM looking to drive growth in the SME market, the bottom line is this. You need to consider how you will service your expanded geographical reach.
Veritek is a technical support company that employs fifty engineers across the UK and a team of engineers strategically located throughout Europe.
If you train us on your cobots, our engineers can support your cobots wherever your customers are located.
More importantly, your customers only pay for field engineers when they use them. Thereby cementing a cobot's reputation as the affordable solution to increasing productivity and operational efficiency.
What could be better than that?
I'd love to know your thoughts.
Learn more about how Veritek Global supports Cobot OEMs to break into SME markets with field engineering support.