More Veritek engineers receive Topcon training
 Under the guidance of Topcon; four more Veritek engineers recently received optical coherence tomography (OCT) training at Topcon's facility in Newbury.
Topcon partnered with Veritek in 2014 and since then have been providing Topcon's customers throughout the UK with exception levels of support.  Four additional engineers have been drafted in to meet the growing demand as Topcon's sales and customer base continue to grow.
Engineers were trained on Topcon's Maestro, OCT 1000 and 2000 machines. This non-invasive imaging equipment uses light waves to take cross-section pictures of the patients retina. Allowing an ophthalmologist to diagnose and provide treatment guidance for glaucoma and retinal diseases
Engineers: Michael Richens, Jason Mclean, James Cooper and Nigel Speight enjoyed a week at Topcons facilities training on preventative and corrective maintenance as well as software and hardware installation. Following the classroom training, the newly trained engineers will be partnered with Veritek's experienced engineers to give them further field training.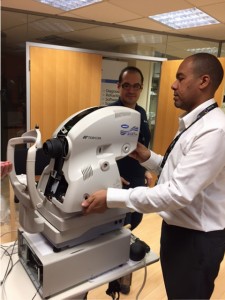 Veritek engineers in all sectors are trained by the manufacturers and certified to support equipment throughout Europe just as a manufacturers employed engineers would be. In 2016 Veritek's UK engineers attended 283 days of manufacturer trainings!
PICTURED Michael Richens, Jason Mclean, James Cooper and Nigel in training with Topcon .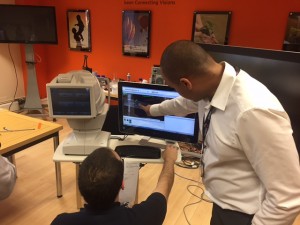 Call us now to discuss your needs
Ready to find out more about service plans or technical support? We have a Veritek expert waiting