Discover Veritek

|
Latest News

|
news

|
The value of maintenance and service in the circular economy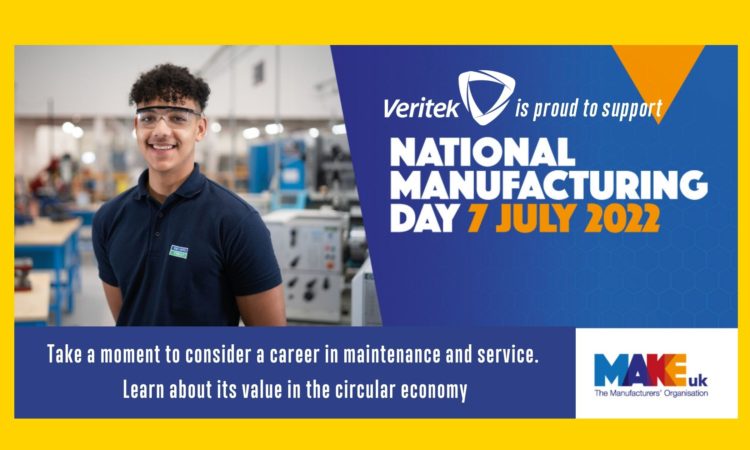 Have you considered a career in after-sales maintenance and service for high-value mission-critical equipment?
The reason I ask is that 7th July is National Manufacturing Day. The day's purpose is to encourage people to explore modern manufacturing jobs while highlighting the benefits of manufacturing to the country.
Because of its links to the circular economy, after-sales maintenance and service have become essential to the manufacturing value chain, which is why a career in maintenance and support is worth investigating.
Here's how this works.
What is the circular economy?
According to the European Parliament, "the Circular Economy is a model of production and consumption, which involves sharing, leasing, reusing, repairing, refurbishing and recycling existing materials and products as long as possible. In this way, the life cycle of products is extended.
In practice, it implies reducing waste to a minimum. When a product reaches the end of its life, its materials are kept within the economy wherever possible. These can be productively used repeatedly, thereby creating further value."
How do manufacturers contribute to the circular economy?
In response to the drive towards sustainability, manufacturers are reducing waste and making manufacturing processes more efficient.
With this in mind, manufacturers are also keen to extend the lifecycles of products.
In doing so, manufacturers can reduce costs and increase customer and supply chain trust.
Where do maintenance and service fit in?
Repairing equipment
First off, planned preventative maintenance keeps products operating in peak condition and prevents malfunctions by inspecting products periodically.
After that, technological advances such as sensors help preserve products by alerting product owners to situations where products need repair work.
Increasing the lifespan of products
Beyond that, scheduled maintenance and repair increase the useful life of mission-critical machinery and equipment.
Reducing energy consumption
Of course, poorly maintained machinery and equipment use more energy than regularly maintained equipment.
Consequently, regular maintenance and service reduce energy consumption and associated costs.
Helping manufacturers to meet regulatory requirements
To combat waste and product obsolescence problems, Governments across Europe are introducing uncompromising new standards, including the right to repair.
For this reason, maintenance and repair services help manufacturers meet their environmental and regulatory obligations.
How does the end customer benefit from the circular economy?
In the case of high-value mission-critical equipment, regular maintenance and repair improve uptime and reliability, productivity, and quality of output.
Most importantly, it reduces costs.
Why do manufacturers outsource maintenance and service to third parties?
Manufacturers want their engineers to work on the highest value activities. They want them to manage installations. Also, to learn from unpredicted breakdowns.
On the other hand, planned maintenance is a predictable activity covering known tasks that don't need access to intellectual property and firmware information.
Some manufacturers do not have the infrastructure and capacity to provide after-sales service. A third-party maintenance and support partner allows them to scale their field service capabilities as and when needed.
To sum up
The circular economy is the future of business. One of the circular economy's tools is maintenance and repair, vital to extending product lifespans.
Elsewhere, maintenance and support services help end customers get maximum ROI from mission-critical equipment and increase productivity and quality of output. Also, minimise their carbon footprints.
For this reason, manufacturers embracing the circular economy need an infrastructure to maintain and repair products.
Third-party maintenance and repair engineers help manufacturers scale service capabilities when needed.
So, on National Manufacturing Day, take a moment to consider a career in maintenance and support.
The future is in your hands.