3 compelling reasons to use a field engineering support partner for equipment upgrades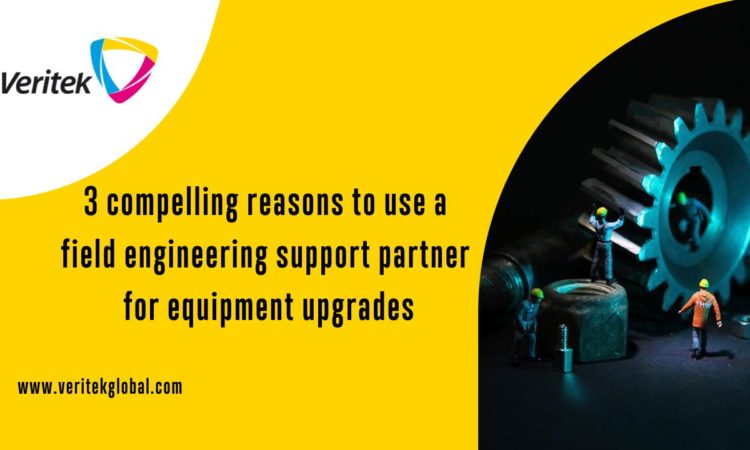 Implementing equipment upgrades helps your customers improve efficiency, maintain output quality, and keep costs down.
But when it comes to delivering large equipment upgrade projects, let's say with 1000+ users, often, OEMs face the same problems.
You need an in-house team with time on their hands to work on your upgrade project. Also, back-office resources to deliver upgrade projects across multiple locations.
After that, if you put yourself in your customers' shoes, you worry that poorly resourced equipment upgrade projects can potentially increase costs as downtime affects productivity.
Beyond that, you worry about a lack of communication leading to a loss of trust.
At this point, you realise you need a capacity plan for your equipment upgrade project.
To help you overcome your capacity challenges, a field engineering service partner can provide a cost-effective solution.
The point is this. A field engineering service partner allows you to scale your service capacity when needed.
Not to mention saving you time and money associated with hiring and training people and keeping them busy during downtime.
Let me show you how.
1. Equipment Upgrade Project Management
A field engineering service partner will appoint you a qualified project manager to ensure good communication with all parties involved in your equipment upgrade project. 
First, your project manager will define agreed-upon messages to ensure clear communication to your customer. For example, together you'll agree messaging that explains why the upgrade needs to take place, the project scope and the benefits of the new functionality. 
Then, your project manager will plan the upgrade project. Your project manager will organise timeframes, parts availability, logistics, reporting and the right resources to complete the job. 
After that, your project manager will pick the right engineering team, and ensure the team is appropriately trained. 
Along the way, you'll receive insight at every stage of the upgrade project. 
As a result, your project manager will reduce downtime, delays and costs associated with your upgrade project. 
2. Extensive footprint of field engineers
When you need help with a large equipment upgrade project, a field engineering service partner gives you a safe pair of hands with resources to complete the job in your timescales.
In practice, this means you can scale your team with field engineers with sector expertise and the right skills to complete your upgrade project according to your instructions.
3. Customer satisfaction
Scaling your capacity with the help of a field engineering support partner ensures you meet equipment upgrade targets and customer deadlines.
Indeed, your customers will appreciate your ability to keep track of your upgrade project status and any issues that arise.
When you manage your customers' requirements, you satisfy their expectations and deliver a seamless customer experience.
To sum up
A field engineering service partner provides an effective solution for OEMs who find they cannot deliver equipment upgrade projects alone, whether through limitations of people, experience, time, cost, or other factors.
You can call on a field engineering service partner to provide project management and a mechanical engineering extension of your team when needed.
In particular, you'll benefit from a dedicated project manager and a footprint of engineers with the right experience and technical skills to ensure your upgrade project happens smoothly and concludes on schedule and budget.
Look for a vendor with sector experience and back-office operational strength. Also, a vendor able to provide you with a view into their project management process.
Veritek combines project management, a large footprint of engineers, fleet management, and parts and logistics management into a unified solution that offers OEMs the most cost-effective upgrade deployment options.
Also, the confidence that you'll deliver a seamless customer experience.
I'd love to know your thoughts.
This blog is relevant to the following Veritek industry sector verticals:
Want to discuss your needs?
Call now to ask about service plans or technical support – we have a Veritek expert waiting.