Articles

|
Latest News

|
news

|
Customer equipment moves as a service: What OEMs need to know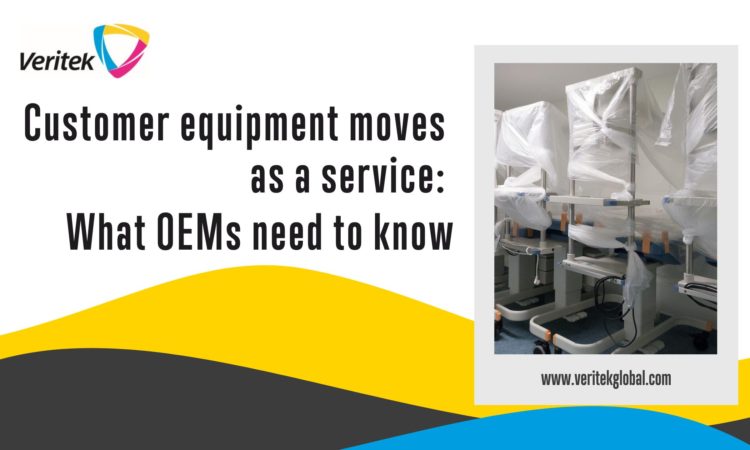 Sometimes your customers need to move their mission-critical equipment.
Perhaps the need for an equipment move is because your customer's business has grown and is relocating to new premises.
Or perhaps your customer has bought new equipment to accommodate business growth and needs to rearrange the layout of its production floor.
On the other hand, if a customer shifts to sustainable local operations, it may organise an equipment move to utilise technology smartly.
Similarly, in a drive to become sustainable, an equipment move may result from a customer adopting smart procedures to manage its equipment assets' lifespans.
What do all these reasons for moving equipment have in common? They're unpredictable, and demand for them is difficult to forecast. For this reason, they make allocating resources to equipment move assignments a challenge for OEMs.
If you are an OEM that wants to succeed in after-sales equipment care, you want to be agile in responding to customer requests.
So how do you get the right people to carry out your customers' equipment move requests at the right time?
Read on to find out how a field engineering service partner can help OEMs overcome logistical problems associated with allocating engineering labour to equipment move assignments.
Second person/engineer for your team
First, when you need additional specialised engineers for a one-off equipment move assignment, you'll find it more cost-efficient to outsource to a field engineering service partner.
The reason? You only pay for a field engineer service partner's resources when needed.
Flexible engineering support at times that suit your customers
After that, a field engineering partner can allocate engineers to fit your customer's busy work schedules. For example, they can carry out equipment moves during off-peak hours to minimise disruption.
Multi-site/cross-border equipment moves
Because a field engineering service partner has field engineers strategically located across Europe, you can reduce the travel and accommodation costs of sending your engineers overseas to complete equipment moves at geographically disparate sites.
A safe pair of hands
Mission-critical equipment is often heavy, bulky, delicate and expensive. To prevent damage when moving, engineers must handle it with care.
When you work with a field engineering service partner, you'll get access to professionals who know how to conduct a risk assessment before moving your equipment.
In particular, they'll know how to prepare equipment for de-installation.
After that, they'll know how to calibrate the machinery to complete the reinstallation.
Sector expertise
Relocating and reconfiguring machinery needs knowledge of the equipment, the sector and the environment in which it operates.
A field engineering service partner like Veritek has field engineers with specific sector expertise.
For example, its medical equipment engineers are comfortable working to hygiene rules.
Elsewhere, its digital cinema experts know how to access and move equipment located in awkward spaces.
To sum up
Adhoc equipment move assignments make it hard for OEMs to capacity plan.
To overcome capacity planning challenges associated with one-off assignments, OEMs can call on the help of a field engineering service partner.
In addition to providing OEMs with a second person with sector expertise for an equipment move team, a field engineering partner has the flexibility to provide support where and when best suits your customers.
As a result, OEMs can carry out equipment moves efficiently and cost-effectively while simultaneously delivering customer satisfaction.
Do you need expert engineering support for an equipment move assignment? Then, we'd love to talk to you.
This blog is relevant to the following Veritek industry sector verticals:
Want to discuss your needs?
Call now to ask about service plans or technical support – we have a Veritek expert waiting.