Articles

|
Latest News

|
news

|
7 tips for accurate diagnosis and fast resolution of equipment problems your remote support desk technicians want you to know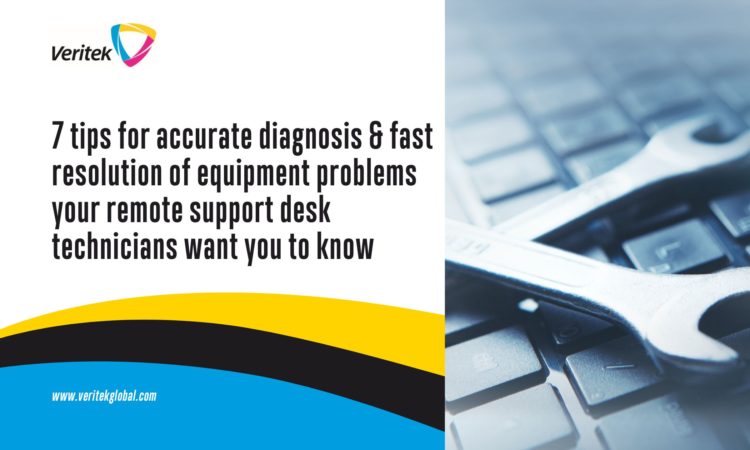 A remote support helpdesk provides our OEMs' customers with access to a large pool of experts with specialist knowledge and skills to quickly resolve equipment issues, reduce downtime, and increase productivity.
Remote diagnosis can be a challenging exercise, even for the most experienced technicians. They depend on the information provided by customers to help them resolve problems quickly and efficiently.
For this reason, we've asked our remote support desk technicians to compile a list of tips to help equipment users get an accurate diagnosis, a quick and proper resolution, and a positive customer experience.
Here's what they told us:
1. Basic checks to carry out before making a call
To identify the cause of the problem and narrow down the troubleshooting process:
Check the power: It sounds obvious, but it is a problem often overlooked. Ensure your equipment is plugged in and the power source is functioning. At the same time, check for blown fuses or tripped circuit breakers.
Check cables are correctly connected and that you have no loose or damaged cables.
Check for an external issue causing your equipment faults, such as a power outage or a network disruption.
2. Gather relevant information in advance of a call
To troubleshoot and fix equipment problems quickly over the phone, provide your remote helpdesk technician with the following information:
The serial number of the equipment
A clear and concise description of the problem you are experiencing
The name and contact information of the person reporting the issue
3. Take note of error codes before rebooting equipment
Error codes often indicate the specific component or system causing the issue and can help diagnose the problem quickly and accurately.
By noting the error code before rebooting the equipment, your remote support technician will be able to troubleshoot the problem more effectively, which can save time and minimise downtime.
Know that in some cases, if a user doesn't note the error codes and doesn't address the issue before rebooting, it can cause the issue to persist, resulting in extended downtime and potentially more costly repairs.
What's more, when you provide us with error codes, we can pass them on to the OEM, who can use them to track and identify equipment failure patterns, which can help improve preventative maintenance and reduce the likelihood of future failures.
4. Keep a note of the steps taken to try to resolve issues
Knowing what steps you have already tried can help our remote support technicians quickly narrow down the possible causes of the issue and identify potential solutions, reducing the time it takes to resolve the problem.
After that, our remote support technicians can identify any steps missed during previous attempts to resolve the issue and address them accordingly.
Beyond that, they can avoid repeating steps already completed and focus on new solutions to try.
5. Have a new equipment operator? Tell us
Knowing you have a new equipment operator can affect how our remote support desk technicians troubleshoot and resolve your equipment problems.
A new operator may have a different knowledge or experience than a more experienced one, which could lead to confusion or mistakes during the troubleshooting process.
When you tell us about your new operators, our remote support desk technicians can provide the proper guidance and support to resolve issues and ensure new users continue to operate your equipment correctly.
6. Allocate enough time for onsite engineers to complete a job
If your remote support desk technician recommends an onsite field visit, allocating enough time for the field engineer to complete the job is essential for several reasons:
Quality repair: Allowing the field engineer enough time to complete the job ensures that the repair is done correctly and to a high standard.
Optimise job efficiency and productivity: Rushing the repair process can lead to incomplete repairs and the need for return visits. Allocating enough time for field visits leads to cost savings and improved customer service.
Prevents future issues: Having enough time to complete a job allows our engineers to identify potential problems and address them before they become more significant.
Keep to a scheduled preventive maintenance plan Regularly scheduled preventative maintenance can detect and prevent potential problems before they occur, reducing downtime and prolonging the lifespan of your equipment.
Our remote support desk technicians say regular preventative maintenance scheduling is especially important for maintaining and increasing the lifespan of older equipment.
In summary
Demand for remote support is increasing because it provides access to a large pool of experts with specialist knowledge and skills to resolve equipment issues quickly.
Carrying out basic checks before making a call, gathering relevant information, taking note of error codes, keeping notes of steps taken to resolve issues, telling us about new equipment operators, allocating enough time for onsite field visits and scheduling regular preventative maintenance will ensure efficient, accurate, and proper resolution of problems.
Consequently, you can reduce downtime and increase productivity.
Are there any further tips we can add to our list? We'd love to know your thoughts.
This blog is relevant to the following Veritek industry sector verticals:
Medical
Robotics and cobotics
Print & Graphics
Optometry
Digital Cinema
Photo imaging
Want to discuss your needs?
During the call, we'll discuss the support you need and whether our third-party service partnerships would be a good fit for your OEM service division.