Discover Veritek

|
Latest News

|
news

|
EcoVadis Renews Veritek Global's Silver Medal for Sustainability Management in 2023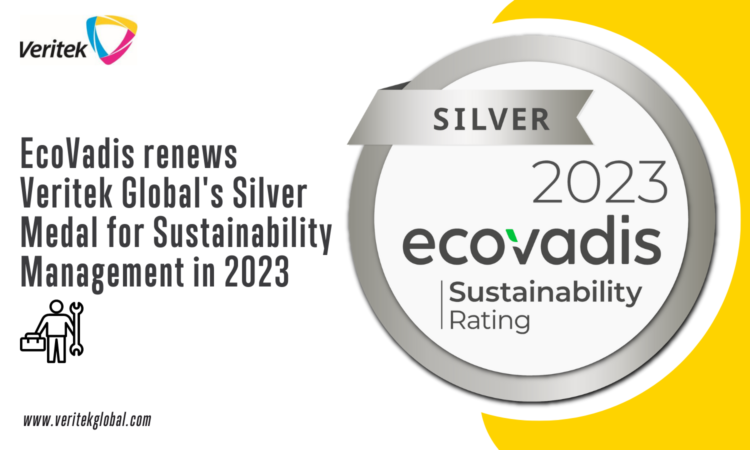 Veritek Global Ltd, a pan-European installation, maintenance and repair of mission-critical equipment specialist, is proud to announce the renewal of its EcoVadis Silver Medal for Sustainability Management in 2023 by EcoVadis, a globally recognised sustainability ratings provider.
The award places Veritek Global Ltd 'in the top 6% of companies rated by EcoVadis in the repair and installation of machinery and equipment industry'.
Moreover, this recognition underscores Veritek Global's commitment to environmental responsibility and ethical business practices.
EcoVadis rigorously assesses companies across various industries based on environmental, social, and governance (ESG) performance.
Through a comprehensive evaluation process, EcoVadis examines critical sustainability criteria, including environmental impact, labour practices, fair business practices, and sustainable procurement. Veritek Global's Silver Medal renewal demonstrates its dedication to upholding high standards in these areas.
"Achieving the EcoVadis Silver Medal for sustainability management and performance for the second time demonstrates our ongoing efforts to integrate sustainability into Veritek Global's core operations," said Veritek Sales & Marketing Director Adrian Clark. "By adhering to strict sustainability practices, we aim to minimise our environmental footprint, foster a culture of responsible business conduct, and be accountable to our customers' sustainable supply chains."
By prioritising sustainability, Veritek Global enhances its long-term competitiveness and reputation as a socially and environmentally conscious organisation. The company remains committed to collaborating with stakeholders, OEM partners and their customers to drive innovation in maintenance and repair, promote sustainable practices, and positively impact the industry.
This blog is relevant to the following Veritek industry sector verticals: