Articles

|
Latest News

|
news

|
New Veritek case study | How HP is using VR technology to deliver service excellence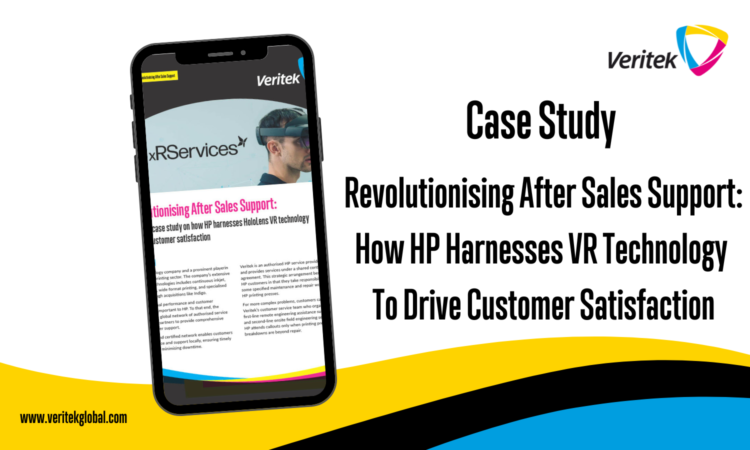 In today's fast-paced digital world, meeting customers' expectations by delivering exceptional after-sales service is more important than ever. To that end, companies that embrace innovative technological solutions gain a competitive edge.
HP is a prominent player in the industrial printing sector. As part of its strategy to continually seek ways to improve after-sales service, HP has harnessed the power of Microsoft's HoloLens Virtual Reality (VR) technology.
As an authorised HP service provider, Veritek has been delighted to discover how VR technology can help our field service engineers deliver service excellence.
For this reason, we asked HP to participate in a Veritek case study showcasing how it leverages Microsoft's HoloLens Virtual Reality (VR) technology to enhance engineer training and skill development, remote collaboration and expert assistance, and improve troubleshooting and maintenance capabilities for its industrial printers.
Read the case study to find out how HoloLens VR technology:
Dramatically reduces engineer training time
Helps HP, its customers and its authorised service providers, including Veritek, to work collaboratively
Save time diagnosing problems by way of real-time feeds
Reduces repair time
Improves repair accuracy
What VR technology means for the future of field service
In our case study, HP explains how VR technology enables:
Enhanced training and skill development
First, VR technology provides field service engineers with immersive and realistic training experiences. Through virtual simulations, engineers can practice and refine their skills in a safe and controlled environment without the risk of causing damage or disrupting actual operations.
"Our printing presses are massive, complicated beasts. Some are the size of a London bus. Maintaining them can intimidate even experienced engineers."
Remote collaboration and expert assistance
Next, VR technology enables field service engineers to collaborate with experts and receive real-time assistance, regardless of physical location. By wearing VR headsets, engineers can share their field of view with remote experts, allowing them to see what the engineer sees exactly. Experts can then provide visual guidance, annotate the engineer's view, and offer step-by-step instructions to resolve issues promptly. This real-time collaboration minimises downtime and enhances problem-solving efficiency.
Sustainability
Beyond that, by leveraging VR technology in field service operations, OEMs and their service partners can contribute to environmental sustainability by reducing travel-related emissions and extending equipment lifespan.
Conclusion
Veritek's case study titled Revolutionising After Sales Support: How HP Harnesses HoloLens VR Technology to drive customer satisfaction is a testament to the transformative impact of innovation in the service industry.
This blog is relevant to the following Veritek industry sector verticals: