Articles

|
Latest News

|
news

|
5 After-Sales Services Trends to watch in 2023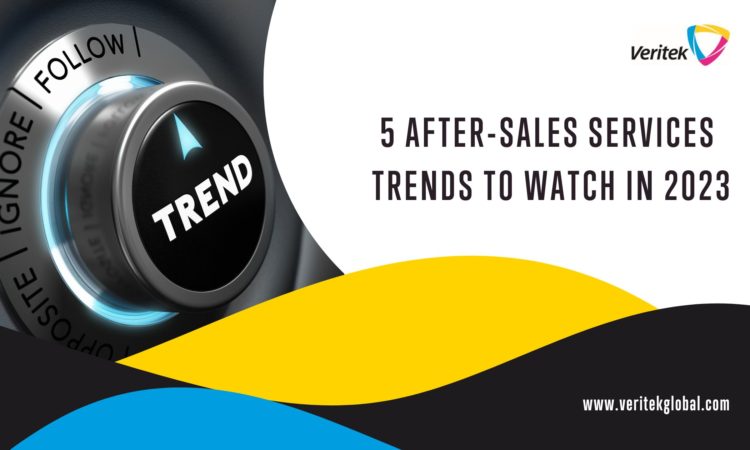 2022 was another challenging year for businesses. Faced with an economic downturn, supply chain problems, and a skills gap, business leaders united in finding ways to adapt. The trading conditions taught the after-sales service sector that customer experience and working towards a sustainable future are more important than ever. As we head into 2023, we see these after-sales services trends will help OEM service divisions overcome environmental challenges and improve efficiency and customer experience.
After-sales services trend 1: Remote support
During the pandemic, demand for remote support gained traction. It is a trend set to continue.
Remote support is an example of humans and automation working in harmony.
To explain, customers want prompt support when IIOT (Industrial Internet of Things) sensors flag potential faults in heavily used or mission-critical equipment or unexpected issues stop production.
Significantly, they want that prompt support to come from a human. Because humans have strong communication skills, they can ask questions clearly and effectively. Beyond that, humans show empathy.
After-sales services trend 2: Predictive maintenance (IIOT)
Although still in development, data-driven predictive maintenance will soon allow OEM customers to predict when equipment will fail. They can then schedule preventive maintenance to avoid unplanned downtime.
Equally important, the data generated by predictive maintenance will give technicians the correct information to help them respond.
Better still, predictive maintenance will give remote and onsite field technicians enough time to respond.
With the correct information and sufficient response time, technicians can deliver a proactive instead of reactive response. Consequently, we expect fix rates to improve.
Moreover, OEM customers will benefit from improved productivity and uptime.
After-sales services trend 3: VR/AI for training and improving fix rates
Virtual reality works by overlaying virtual objects in real-world maintenance jobs.
With virtual reality-enabled 'guided hands', field engineers can save time diagnosing problems, work collaboratively with colleagues, reduce repair time and increase the accuracy of repair decisions.
Conversely, customers can use VR to connect with a field service technician remotely when a fault is less complex. In this instance, a remote technician can use the technology to guide the customer to solve the problem.
After-sales services trend 4: Automation
In the same way that manufacturers are looking towards automation to help them become more flexible and efficient, service companies are looking towards automation to improve productivity, reduce duplication of effort and improve customer experience.
To illustrate, Veritek is currently rolling out a field service management system to help it increase efficiency and save time and costs associated with work order management, scheduling and dispatch.
APIs will help Veritek connect its new field service management system with its customers' systems, thereby improving how we exchange information, helping us to get better insights and enhancing customer experience.
Elsewhere, the field service management system will help the company with fleet management and smart routing, thus helping Veritek achieve its sustainability goals.
After-sales services trend 5: Sustainability
More and more customers, suppliers and investors seek reassurance that partners in the value chain can demonstrate commitment to sustainability management.
To demonstrate it is an accountable partner in an OEM's supply chain, Veritek registered with the world's most trusted provider of business sustainability ratings, EcoVadis.
By following the guidance the sustainability ratings company provided, in May 2022, EcoVadis awarded Veritek its Silver Medal for Sustainability.
To sum up
If you take a holistic view of these after-sales services trends, you can see that they shape a sustainable future and enhance customer experience.
Remote support and VR reduces the need for in-person visits, thus reducing travel and related emissions while at the same time improving fix rates.
Likewise, automation leads to better routing, minimising technicians' travel time and fuel consumption while simultaneously speeding up response.
Predictive maintenance fine-tunes maintenance cycles, leading to better productivity and increasing the lifespan of equipment assets. At the same time, better maintenance ensures OEM customers benefit from energy efficiency.
Insightful data will predict the parts needed, leading to less waste. Moreover, it will cut down field visits leading to lower carbon emissions.
What could be more important?
This blog is relevant to the following Veritek industry sector verticals:
Medical
Robotics and cobotics
Print & Graphics
Optometry
Digital Cinema
Photo imaging
Want to discuss your needs?
Call now to ask about service plans or technical support – we have a Veritek expert waiting.