Articles

|
Latest News

|
news

|
7 questions OEMs should ask prospective after-sales engineering service providers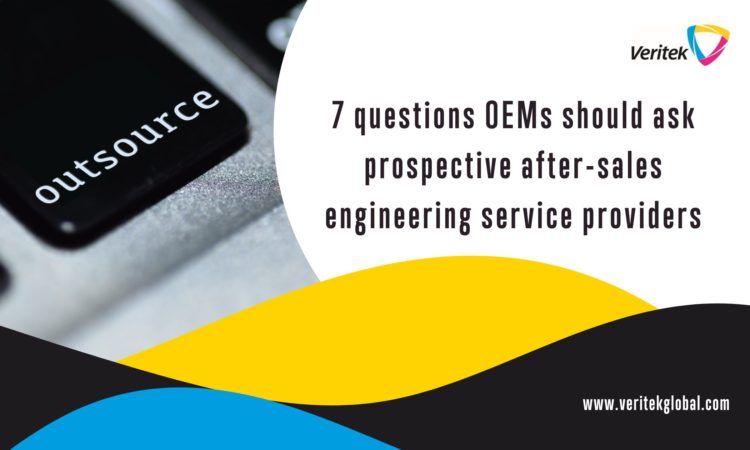 Imagine what it would be like if conflicting priorities didn't prevent you from focusing on core after-sales service tasks, such as sales-driven priorities that support market growth and development.
Or you could adjust after-sales service capacity to fluctuating demand.
These reasons motivate many OEMs to build relationships with specialist after-sales engineering service providers.
To identify an after-sales engineering services provider with the expertise, experience, and resources to help you achieve your goals, OEM service divisions should ask the following questions:
1 What are the key drivers for outsourcing elements of your aftersales engineering services, and what benefits do you hope to achieve?
Start by aligning your outsourcing needs with your business goals. For example, do you want to:
Boost efficiency and control costs?
Support strategic sales growth targets?
Reduce the environmental impact of service delivery. Would reducing the carbon footprint of engineers' travel or sharing resources help you to achieve this goal?
Keep on top of the need to support your range of technologies as your core portfolio achieves longer product life
Retain and develop your technical staff
And in terms of benefits, what are you looking for?
Focus: So that your technical resources can continue to drive the leading edge of your product portfolio
Flexibility: To react to unplanned jobs and fluctuating demand
Cost-savings: Pure-play after-sales engineering service companies spread their overhead costs across multiple customers, meaning they offer their services at a lower cost.
Increased customer satisfaction: Across your entire product range, ensuring your customers stay loyal and move through your technology portfolio at their own pace.
By aligning outsourcing with your business goals, you can identify the right after-sales engineering service provider, establish expectations, and measure success.
2 What specific services do you want to outsource, and what are your requirements for each service?
Next, to identify areas for improvement and ways to optimise after-sales service operations for maximum efficiency and customer satisfaction, ask yourself:
What is it only my internal technical resource team can do?
Is that where your internal technical resource spends most of its time?
If the answer to that second question is no, an after-sales engineering service provider can help.
We often find that essential but relatively straightforward tasks occupy a large proportion of highly trained OEM resources' time.
An after-sales engineering service provider can help you to increase strategic flexibility, deliver more of your high-value objectives and maintain customer satisfaction.
3 What are the capabilities and experience of your potential third-party service provider, and how well do they align with your requirements and expectations?
After that, research pure-play companies that specialise in delivering after-sales engineering services.
Because a pure-play service partner with specific sector expertise will better understand your customers, technologies, and products' after-sales service needs.
Moreover, because of their familiarity with your sector's equipment and experience with similar projects, their remote and onsite field engineers will take less time to train.
4 What is the track record of your potential after-sales engineering service provider?
A good track record is vital to delivering effective solutions to problems and high levels of customer satisfaction.
Also, reducing the risk of errors or issues arising from a lack of knowledge of your sector.
In addition to case studies and testimonials, Veritek (a pure-play after-sales engineering service company), for example, is ISO9001 certified for quality management.
Also, trusted sustainability rating provider EcoVadis awarded the company a Silver Medal for Sustainability, meaning Veritek is an accountable member of its customers' supply chains.
5 How will you manage and oversee the work of your engineering service provider to ensure it meets your requirements and delivers value for money?
Managing the work carried out by an after-sales engineering service provider requires clear communication, well-defined expectations, measurable performance metrics, and regular performance reviews.
For these reasons, Veritek spends a lot of time upfront putting together a service-level agreement that sets the foundations for a positive and productive relationship.
And provides each of its customers with an Account Manager that serves as a focal point for the relationship, and ensures Veritek meets its obligations, delivers tasks on time, and addresses any issues or concerns.
6 What communication and collaboration can you expect from your after-sales engineering service provider?
To establish effective communication and collaboration and ensure alignment and work towards common goals, Veritek factors the following into its service partnerships:
Establishment of clear communication channels (such as regular meetings, calls, and emails)
Alignment of goals (such as priorities, timelines and expected outcomes set out in a service level agreement)
Determining regular reporting requirements for progress and performance
Provision of clear escalation paths for addressing issues or concerns
Regular reviews of performance and provision of feedback
7 What is the cost of outsourcing compared to keeping after-sales engineering services in-house?
Determining the cost of building a relationship with a specialist after-sales engineering service provider compared to keeping services in-house requires careful consideration of various factors, including:
Your business objectives, including growth targets and the scope of services provided
Your customers' needs
Your customers' locations
The opportunity cost (for example, working with a third party may free up internal resources to focus on other business priorities, whereas keeping services in-house may limit your ability to take advantage of new business opportunities)
Know that a partnership with an after-sales engineering services provider doesn't mean handing over control to a third party.
The most effective after-sales service solution often results from a combination of direct OEM resources and a range of services delivered by the outsourced partner.
Plus, third-party after-sales engineering service providers have economies of scale that allow them to provide services at a lower cost than their clients could achieve in-house.
To sum up
OEMs that gain the most value from collaborative partnerships with after-sales engineering service providers understand where they can get the best return on investment from in-house resources and where a support partner can fill capacity gaps.
What's more, they understand that flexibility can only be realised through a planned long-term engagement.
Answering these questions will help OEMs decide whether outsourcing their after-sales engineering services to a third party is the right choice for their business.
Featured resource
Our new datasheet identifies four areas industrial print manufacturers can drive customer satisfaction in after-sales services.
This blog is relevant to the following Veritek industry sector verticals: