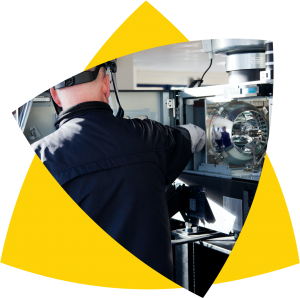 About Us
Our European network of specialist technical engineers are managed from our hubs in Germany, Spain, Italy and the United Kingdom, meaning Veritek's customers benefit from a seamless service across Europe and have the option of one point of contact, one helpline phone number, and one invoice.
We deal with the logistics and management – while you benefit from on-call maintenance and repair services for all of your sites and equipment across Europe.
European hub network
Veritek has four European hubs to deliver fast, efficient and cost-effective technical support across Europe.
Each hub includes warehouses for parts, and fully equipped workshops for swaps and repairs. This network enables easy supply lines and fast dispatch of local language, specialist technical engineers speaking local languages.
Additionally at our British and German bases, we have training centres for OEM or Veritek-led training courses.
United Kingdom
Veritek Global Ltd.
UK head office and hub in Eastbourne, England serving UK and Ireland and managing Scandinavian regions
Southern Europe
Veritek Global Iberia S.L.
Spanish hub in Madrid, serving Spain, Portugal and France
Czech Republic
Veritek Global Czech Republic
Czech hub based in in Holešovice, serving Eastern Europe
Call us now to discuss your needs
Ready to find out more about service plans or technical support? We have a Veritek expert waiting